Bears are active in Grand Teton

Black and grizzly bears are roaming throughout the park--near roads, trails and in backcountry areas. Hikers and backcountry users are advised to travel in groups of three or more, make noise and carry bear spray. Visitors must stay 100 yards from bears. More »
Area closure in the area around Baxter's Pinnacle

An area closure is in effect around Baxter's Pinnacle to protect nesting peregrine falcons. This closure precludes any climbs of Baxter's Pinnacle and usage of the walk-off gully. This closure will be in effect through 8-15-2013. More »
Moose District Trails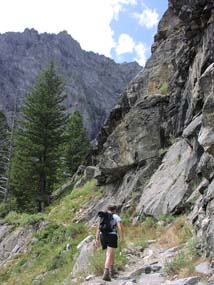 NPS Photo
If you wish to spend your day hiking, there are two trailheads in the Moose District with hikes ranging from easy to strenuous.
Taggart Lake trailhead: Turn west at Moose Junction onto the Teton Park Road. Drive 3.5 miles to the trailhead. One of the park's most popular hikes is the 4-mile long Taggart Lake loop that offers inspiring views of the Grand Teton towering above Taggart Lake. You may also explore the Valley Trail and Bradley Lake.
(topographic map, Google Earth map)


Death Canyon trailhead: Turn south on the Moose-Wilson Road, continue three miles to the Death Canyon Road. The first mile of the Death Canyon Road is paved, but the second mile is dirt and becomes quite rough as you approach the trailhead. This road is recommended for high clearance vehicles. The trail climbs to the Phelps Lake overlook, descends toward the lake and then rises quickly into Death Canyon. As the trail levels out, look for the historic Civilian Conservation Corps-built patrol cabin sheltered in the forest.
(topographic map, Google Earth map)
Did You Know?

Did you know that until the 1890s no one had settled on the west bank of the Snake River in the central part of Jackson Hole? William "Bill" Menor built a ferry at Moose to shuttle patrons across the river, the only reliable crossing point between Wilson and Moran.