Bears are active in Grand Teton

Black and grizzly bears are roaming throughout the park--near roads, trails and in backcountry areas. Hikers and backcountry users are advised to travel in groups of three or more, make noise and carry bear spray. Visitors must stay 100 yards from bears. More »
Moose-Wilson Road Closure

The Moose-Wilson Road between Death Canyon Junction north to the intersection with the Murie Center Road is temporarily closed to motor vehicles, bicycles, skating, skateboards and similar devices. For current road conditions call 307-739-3682. More »
Pathway Closure

The Multi-use Pathway will be closed from the Gros Ventre Bridge to the Snake River Bridge starting on September 15, 2014 due to construction. Construction on this section of pathway is expected to be completed by October 13, 2014.
Moose District Trails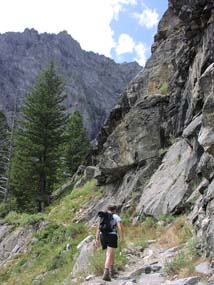 NPS Photo
If you wish to spend your day hiking, there are two trailheads in the Moose District with hikes ranging from easy to strenuous.
Taggart Lake trailhead: Turn west at Moose Junction onto the Teton Park Road. Drive 3.5 miles to the trailhead. One of the park's most popular hikes is the 4-mile long Taggart Lake loop that offers inspiring views of the Grand Teton towering above Taggart Lake. You may also explore the Valley Trail and Bradley Lake.
(topographic map, Google Earth map)


Death Canyon trailhead: Turn south on the Moose-Wilson Road, continue three miles to the Death Canyon Road. The first mile of the Death Canyon Road is paved, but the second mile is dirt and becomes quite rough as you approach the trailhead. This road is recommended for high clearance vehicles. The trail climbs to the Phelps Lake overlook, descends toward the lake and then rises quickly into Death Canyon. As the trail levels out, look for the historic Civilian Conservation Corps-built patrol cabin sheltered in the forest.
(topographic map, Google Earth map)
Did You Know?

Did you know that pronghorns are the fastest mammals in the western hemisphere? They can run up to 70 mph, but do not like to jump fences! In the summer, pronghorn live along Antelope Flats Road, but in fall they migrate almost 200 miles to central Wyoming.