Bears are active in Grand Teton

Black and grizzly bears are roaming throughout the park--near roads, trails and in backcountry areas. Hikers and backcountry users are advised to travel in groups of three or more, make noise and carry bear spray. Visitors must stay 100 yards from bears. More »
Multi-use Pathway Closures

Intermittent closures of the park Multi-use Pathway System will occur through mid-October during asphalt sealing and safety improvement work. Pathway sections will reopen as work is completed. Follow the link for a map and more information. More »
Moose-Wilson Road Status

The Moose-Wilson Road between the Death Canyon Road and the Murie Center Road is currently open to all traffic. The road may re-close at any time due to wildlife activity. For current road conditions call 307-739-3682. More »
Laurance S. Rockefeller Preserve Trip Planner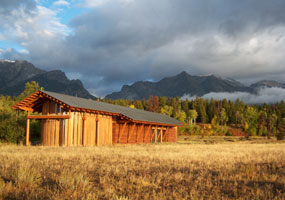 The Laurance S. Rockefeller Preserve is located four miles south of Moose on the Moose-Wilson Road. The Preserve provides a special opportunity to connect with nature in an environment designed to reduce congestion and provide an opportunity for solitude and reflection. Explore the network of trails leading to Phelps Lake through mature forests and aspen groves. Continue south along the Moose-Wilson Road to reach Teton Village for opportunities to view wildlife. This slow, winding road is closed to RVs and trailers (vehicles over 280 inches in length) and is unpaved for 1.5 miles. As you plan your trip, keep in mind that parking at the Preserve is limited and often full from 10 a.m. to 3:30 p.m. Consider carpooling to help alleviate congestion and reduce our environmental footprint. The Preserve remains car-accessible from May 1st-October 31st, and the Center is open from late-May through September.
Click on links below for additional information.
Laurance S. Rockefeller Preserve Center
Laurance S. Rockefeller Preserve FAQs
Laurance S. Rockefeller Activities
Laurance S. Rockefeller Trails
Did You Know?

Did you know that the black stripe, or dike, on the face of Mount Moran is 150 feet wide and extends six or seven miles westward? The black dike was once molten magma that squeezed into a crack when the rocks were deep underground, and has since been lifted skyward by movement on the Teton fault.