Laurance S. Rockefeller Preserve Trip Planner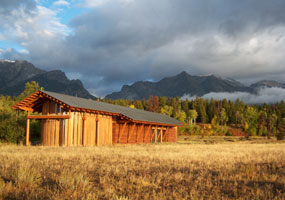 The Laurance S. Rockefeller Preserve is located four miles south of Moose on the Moose-Wilson Road. The Preserve provides a special opportunity to connect with nature in an environment designed to reduce congestion and provide an opportunity for solitude and reflection. Explore the network of trails leading to Phelps Lake through mature forests and aspen groves. Continue south along the Moose-Wilson Road to reach Teton Village for opportunities to view wildlife. This slow, winding road is closed to RVs and trailers (vehicles over 280 inches in length) and is unpaved for 1.5 miles. As you plan your trip, keep in mind that parking at the Preserve is limited and often full from 10 a.m. to 3:30 p.m. Consider carpooling to help alleviate congestion and reduce our environmental footprint. The Preserve remains car-accessible from May 1st-October 31st, and the Center is open from late-May through September.
Click on links below for additional information.
Laurance S. Rockefeller Preserve Center
Laurance S. Rockefeller Preserve FAQs
Laurance S. Rockefeller Activities
Laurance S. Rockefeller Trails
Did You Know?

Did you know that Grand Teton National Park is home to the largest bird in North America? The Trumpeter Swan weighs 20-30 pounds and lives in the valley year-round in quiet open water.