Seasonal road closures in effect

Seasonal road closures are in effect for motorized vehicles. The Teton Park Road is closed from the Taggart Lake Trailhead to the Signal Mountain Lodge. The Moose-Wilson Road is closed from the Granite Canyon Trailhead to the Death Canyon Road. More »
Bears are active in Grand Teton

Black and grizzly bears are roaming throughout the park--near roads, trails and in backcountry areas. Hikers and backcountry users are advised to travel in groups of three or more, make noise and carry bear spray. Visitors must stay 100 yards from bears. More »
Laurance S. Rockefeller Preserve Trip Planner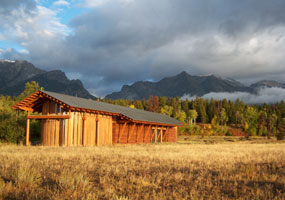 The Laurance S. Rockefeller Preserve is located four miles south of Moose on the Moose-Wilson Road. The Preserve provides a special opportunity to connect with nature in an environment designed to reduce congestion and provide an opportunity for solitude and reflection. Explore the network of trails leading to Phelps Lake through mature forests and aspen groves. Continue south along the Moose-Wilson Road to reach Teton Village for opportunities to view wildlife. This slow, winding road is closed to RVs and trailers (vehicles over 280 inches in length) and is unpaved for 1.5 miles. As you plan your trip, keep in mind that parking at the Preserve is limited and often full from 10 a.m. to 3:30 p.m. Consider carpooling to help alleviate congestion and reduce our environmental footprint. The Preserve remains car-accessible from May 1st-October 31st, and the Center is open from late-May through September.
Click on links below for additional information.
Laurance S. Rockefeller Preserve Center
Laurance S. Rockefeller Preserve FAQs
Laurance S. Rockefeller Activities
Laurance S. Rockefeller Trails
Did You Know?

Did you know that lodgepole pine trees grow on glacial moraines in Jackson Hole? Glacial moraines are ridges of rocky debris left behind as Ice Age glaciers melted. The soil on these ridges retains moisture and is more hospitable to trees than the cobbly, porous soil on the outwash plain.