Seasonal road closures in effect

Seasonal road closures are in effect for motorized vehicles. The Teton Park Road is closed from the Taggart Lake Trailhead to the Signal Mountain Lodge. The Moose-Wilson Road is closed from the Granite Canyon Trailhead to the Death Canyon Road. More »
Avalanche hazards exist in the park

Avalanche hazards exist in the park, especially in mountain canyons and on exposed slopes. A daily avalanche forecast can be found at www.jhavalanche.org or by calling (307) 733-2664. More »
Bears emerging from hibernation

Bears are beginning to emerge from hibernation. Travel in groups of three of more, make noise and carry bear spray. Visitors must stay at least 100 yards from bears. More »
Jenny Lake District FAQs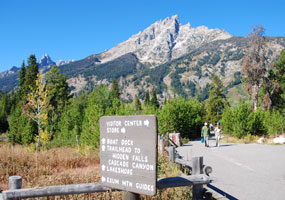 Frequently asked questions and answers!
Where is everything? Please refer to the South Jenny Lake area map to locate the visitor center, lake, boat dock, restrooms, store, ranger station and campground; and the park map for general information.
Where are Hidden Falls and Inspiration Point? You may hike around either end of the lake or take a shuttle boat to access the falls and vistas. Hidden Falls is 5 miles roundtrip and Inspiration Point is 5.9 miles roundtrip from the visitor center, or 1 mile and 1.9 miles respectively from the west boat dock for those using the Jenny Lake Boating shuttle boats (fee charged). Please refer to the Lakeshore Trail map for distance details.
Can I pick up backcountry and boat permits at Jenny Lake? Backcountry permits are available at the Jenny Lake Ranger Station. Boat permits are available at the Jenny Lake Visitor Center.
What kind of boating opportunities are available? Jenny Lake Boating offers shuttle services across Jenny Lake, canoe and kayak rentals, and an evening cruise.
Are there bears at Jenny Lake? Yes, both black and grizzly bears, but don't be tricked! Black bears may be blonde, cinnamon, brown or black, and grizzly bears may be brown to black. Ask a ranger for all the details. Please follow the park's Bear Safety recommendations.
How did Jenny Lake form? During the ice age, glaciers flowed down canyons and carved out depressions on the valley floor, depositing terminal moraines along the valley floor. Today water fills these depressions forming lakes. Jenny Lake is over 250 feet deep!
Where did it come from? Visit our Cultural History pages to learn more.

The Jenny Lake Visitor Center: Harrison Crandall homesteaded in 1924 near the Cathedral Group Turnout. He became the park's unofficial photographer using this cabin as his studio for many years. This is the cabin's third location.
The Jenny Lake Ranger Station: Lee Manges built his homestead cabin in 1925 near Windy Point. Rangers relocated the cabin turning it into the park's first ranger station and museum in 1930.
Jenny Lake name: The name Jenny Lake dates back to the Hayden Expedition of 1872 when Jenny Leigh, Shoshone Indian wife of Richard "Beaver Dick" Leigh, assisted the expedition.
Did You Know?

Did you know that lodgepole pine trees grow on glacial moraines in Jackson Hole? Glacial moraines are ridges of rocky debris left behind as Ice Age glaciers melted. The soil on these ridges retains moisture and is more hospitable to trees than the cobbly, porous soil on the outwash plain.