Jenny Lake Trip Planner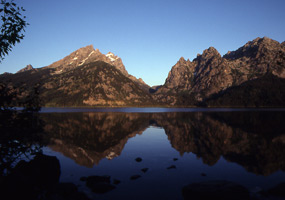 Explore the Jenny Lake District for easy access to valley lakes and invigorating hiking while enjoying dramatic mountain scenery. The district offers access to some of the most popular hiking in the park. Hike into Cascade Canyon past Hidden Falls and Inspiration Point; ascend from sagebrush meadows to alpine lakes; or pass through forested trails into Paintbrush Canyon. Climbers find easy access to the world-renowned central Teton peaks from Jenny Lake and Lupine Meadows. Visit the Jenny Lake Ranger Station for current route conditions and backcountry permits during the peak summer months. Drive scenic roads that reach the park's highest vista or curve along the shores of Jenny Lake. After a long day spent exploring the park, Jenny Lake and Signal Mountain campgrounds offer stunning backdrops. As you plan your trip, keep in mind that parking at South Jenny Lake is highly congested and often full from 10 a.m. to 4 p.m. The Jenny Lake District remains car-accessible from May 1st-October 31st.
Click on the links below for additional information.
Jenny Lake District Activities