Bears are active in Grand Teton

Black and grizzly bears are roaming throughout the park--near roads, trails and in backcountry areas. Hikers and backcountry users are advised to travel in groups of three or more, make noise and carry bear spray. Visitors must stay 100 yards from bears. More »
Colter Bay District Trails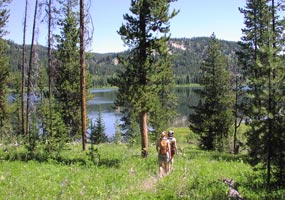 NPS Photo
If you wish to spend your day hiking, there are several trailheads in the Colter Bay District with hikes ranging from easy to moderate/strenuous.
Hermitage Point trailhead: Access the trailhead from the south end of the Colter Bay parking lot. A network of trails rolls through lodgepole forests, sagebrush meadows and wetlands near Jackson Lake, or take the old wagon road and trek to Jackson Lake Lodge.
(topographic map, Google Earth map)

Jackson Lake Lodge trailhead: Drive 5.5 miles south of Colter Bay to the Jackson Lake Lodge. Hike east to access Christian Pond loop or hike to the top of Grand View Point with views of many lakes.

Two Ocean Lake trailhead: Drive 13.5 miles south and east of Colter Bay up Pacific Creek Road to the east shore of Two Ocean Lake. A maze of loop or out and back trails wrap around Two Ocean and Emma Matilda lakes including a 360° vista from Grand View Point.
(topographic map, Google Earth map)

Flagg Ranch trailhead: Drive 16.5 miles north of Colter Bay on the US 89, 191, 287 to Flagg Ranch. Follow the Polecat Creek Loop Trail for wetland wildlife or along the Flagg Canyon trail for spectacular views of the upper Snake River.
Did You Know?

Did you know that lodgepole pine trees grow on glacial moraines in Jackson Hole? Glacial moraines are ridges of rocky debris left behind as Ice Age glaciers melted. The soil on these ridges retains moisture and is more hospitable to trees than the cobbly, porous soil on the outwash plain.