Bears are active in Grand Teton

Black and grizzly bears are roaming throughout the park--near roads, trails and in backcountry areas. Hikers and backcountry users are advised to travel in groups of three or more, make noise and carry bear spray. Visitors must stay 100 yards from bears. More »
Moose-Wilson Road Closure

The Moose-Wilson Road between Death Canyon Junction north to the intersection with the Murie Center Road is temporarily closed to motor vehicles, bicycles, skating, skateboards and similar devices. For current road conditions call 307-739-3682. More »
Pathway Closure

The Multi-use Pathway will be closed from the Gros Ventre Bridge to the Snake River Bridge starting on September 15, 2014 due to construction. Construction on this section of pathway is expected to be completed by October 13, 2014.
Roadside Bears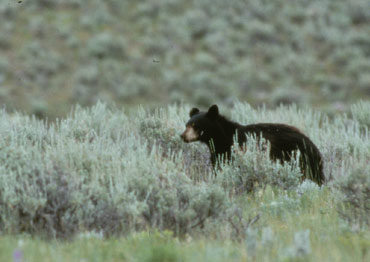 Bears and roads are not a good combination. Bears feeding along roads quickly become habituated to vehicles and people increasing their chance of being hit by vehicles. When people stop for a closer look or to take pictures, habituated bears may become bold and approach people. Habituated bears may learn it is acceptable to frequent campgrounds or picnic areas, where they may gain access to human foods. When bears obtain human food, a very dangerous situation develops that may lead to human injury and the bear's death. Please resist the temptation to stop and get close to roadside bears.
Stay 100 yards from bears even if you are in your vehicle.
Use designated pullouts when viewing bears and stay with your vehicle.
Follow directions from National Park Service Staff.
Use binoculars or spotting scopes for safe viewing.
Approaching wildlife is prohibited by law.
Do not leave food, garbage, or coolers in the open bed of a truck or the exterior of any vehicle.
Never feed a bear!
---
BE BEAR AWARE
When stopping to view wildlife, pullover in a designated turnout - do not stop on the roadway. Maintain a distance of at least 100 yards.

Help keep bears wild and humans safe - Never feed or approach bears!

Do not leave food, garbage, or coolers in the open bed of a truck or the exterior of any vehicle.
---
Never approach a bear.
Never feed a bear.
Stay 100 yards (1 football field) from bears at all times.
Did You Know?

Did you know that Grand Teton National Park was established in both 1929 and 1950? The original 1929 park protected the mountain peaks and the lakes near the base. The boundaries were later expanded in 1950 to include much of the adjacent valley floor.