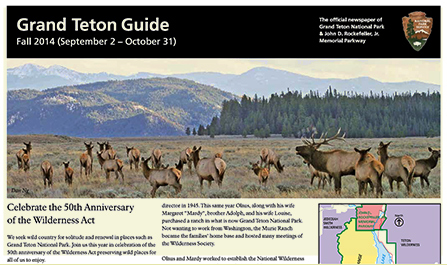 The park newspaper, the Grand Teton Guide, provides park visitors with a wealth of information about park activities, lodging, services, notices and other important information. Each vehicle entering through the park's entrance booths will receive one newspaper, or you may download the latest Grand Teton Guide by clicking the link below.
You will need Adobe Acrobat Reader 5.0 or higher, available free online, to view or download these files.You can download Adobe Acrobat Reader here.
2015
Summer 2015 (June 3 - September 7), 5.1 Mb.
Spring 2015 (May 1 - June 2), 2.2 Mb.
Winter 2015 (November 1, 2014 - April 30, 2015), 1.4 Mb.


Plan a Safe Visit

Learn about wildlife, driving, weather, and recreational safety in the park. Read More

Outdoor Activities

There is something for everyone at Grand Teton--explore outdoor opportunities in the park. Read More

Trip Planning Guide

Resources for planning your trip to Grand Teton. Read More