Grand Teton Virtual Explorers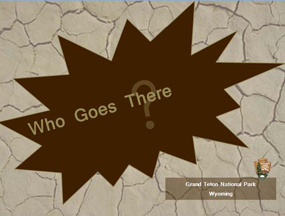 Become a virtual explorer! These presentations will take you on journeys through park history, geology and wildlife tracking. Click on the link below to explore your park.
This collaborative effort between Utah State University and Grand Teton National Park was funded by Rocky Mountain - CESU (Cooperative Ecosystems Study Unit). Undergraduate students created the storylines, acquired the images and developed these slide shows with guidance from their advisor and interpretive staff at Grand Teton National Park.
Click here to watch slide shows about:
Who Goes There - An animal tracking adventure.
Capturing Mountain Images - Take a journey back in time with photographer William Henry Jackson and learn techniques for taking photographs.
What the Glaciers Created - Learn how glaciers shaped the Teton landscape.
Crossroads of the Fur Trade - Find out what life was like for mountain men such as Jim Bridger in the 1800s during the fur trade.