Jackson Hole Historical Society and Museum, #1958.2223.001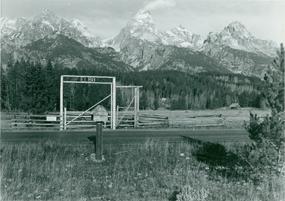 James "Jimmy" Manges sold 115 acres of his homestead to Chester Goss and his partners who established the Elbo Ranch in 1926. Their "cabin camp" boasted tourist cabins with indoor plumbing, a store, a baseball diamond, a large rodeo arena with a racetrack, a grandstand and refreshment kiosks. A roadside billboard proclaimed, "the home of the Hollywood Cowboy." Acclaimed writer and owner of the Bar BC Dude Ranch, Struthers Burt, wrote Yellowstone Superintendent Horace Albright: "This speedway down here, the El-Bo Ranch and the south end of Timber Island, not to mention Jenny's Lake, has about sickened me with this neck of the woods." The Snake River Land Company bought the Elbo Ranch in 1929 setting aside this land for future park expansion. The ranch no longer exists, but faint remnants of the racetrack may be seen from above.
How to get there: Park at the southern entrance to the River Road, located just north of the Cottonwood Creek picnic area. The open sage just north of this parking area held the racetrack. Other Elbo Ranch structures stood on the west side of the road, north of the Jimmy Manges cabin.