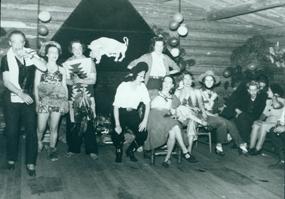 Jackson Hole Historical Society and Museum, #2014
In 1990, the Bar BC Ranch was added to the National Register of Historic Places.
Experienced dudes, Struthers Burt and Dr. Horace Carncross opened Jackson Hole's second dude ranch in 1912, the Bar BC Ranch. Burt described dude ranching as cattle ranching modified to care for "dudes"—visitors willing to pay handsomely for a quaint cowboy experience. During its peak years, as many as 50 dudes could stay at a monthly rate of $300 each. These rustic destinations copied the layout of working cattle ranches. Only six dudes stayed the first summer, but the Bar BC soon became Jackson Hole's most famous dude ranch.
Unlike traditional dude ranches, the Bar BC entertained a well-heeled clientele with costume parties, performances of original plays and literary discussions. Burt, a popular author, attracted many artists, socialites and writers to his ranch. Some guests even arrived with their typewriters.