Winter Road Status

During winter, roads in the park may close due to snow and ice, especially at night when water from melting refreezes on roads. For road status information please call (865) 436-1200 ext. 631 or follow road updates at http://twitter.com/SmokiesRoadsNPS. More »
Elkmont Campground Water

Due to water line construction in the Elkmont Campground, drinking water will not be available in campground sinks. Containers of drinking water will be provided to campers upon check-in. We expect full water service to be restored by March 19.
Smokies Trip Planner
The Smokies Trip Planner is the official trip planning guide to Great Smoky Mountains National Park. Download a copy now! (2050 kb file, complete file with text and map included)
The Smokies Trip Planner contains information about:
Favorite destinations in the park including
Cades Cove
Cataloochee
Clingmans Dome
Roaring Fork
and others
Popular activities such as
auto touring
bicycling
family campgrounds
fishing
hiking and backpacking
picnicking
waterfall walks
wildlife watching
and more
General information including
weather and climate
lodging and camping
park map
If your internet connection is slow, you can download the trip planner in sections. The following links break the planner up into a 5 files-the text and four map quadrants:
Trip Planner text (145 kb file)
NW quadrant map (527 kb file)
NE quadrant map (632 kb file)
SW quadrant map (537 kb file)
SE quadrant map (551 kb file)

The Smokies Trip Planner is a PDF file. You will need a free copy of Acrobat Reader to access the file.

Smokies Guide Newspaper
Don't want to wait until you get here to read the park newspaper? View an online version of the Smokies Guide now!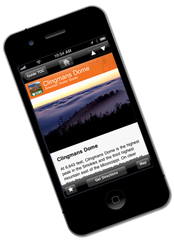 Smokies Mobile App
Download the Free Smokies Visitor Guide for your phone. Includes trip planning, recreation and services information along with the park map. Everything works without a cell signal.
Did You Know?

An experimental program to reintroduce elk to the park was begun in 2001. Elk once roamed the Smokies, but were eliminated from the region in the mid 1800s by over-hunting and loss of habitat. Other animals successfully reintroduced to the park include river otters and barn owls. More...