Winter Road Status

During winter, roads in the park may close due to snow and ice, especially at night when water from melting refreezes on roads. For road status information please call (865) 436-1200 ext. 631 or follow road updates at http://twitter.com/SmokiesRoadsNPS. More »
Elkmont Campground Water

Due to water line construction in the Elkmont Campground, drinking water will not be available in campground sinks. Containers of drinking water will be provided to campers upon check-in. We expect full water service to be restored by March 19.
Juney Whank Falls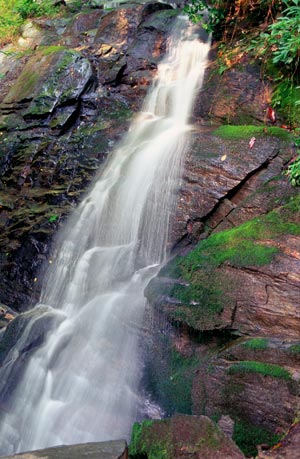 Kent Cave Photo
Juney Whank Falls is divided into an upper and lower section. Both can be viewed from the footbridge which crosses Juney Whank Branch at the falls. Together they drop 90 feet from top to bottom. The trail to the waterfall is 0.8 miles roundtrip and is considered moderate in difficulty.
The stream and falls are said to be named after a Mr. Junaluska "Juney" Whank, who may be buried in the area.
Access Trail:
Juney Whank Falls Trail
Trailhead:
Follow the signs to the national park through downtown Bryson City to Deep Creek Campground. Continue past the campground to the trailhead at the end of Deep Creek Road. Backtrack on foot 0.1 mile along the road to the trail.

Trail Notes: The roundtrip distance to the waterfalls is 0.8 miles and the hike is generally considered moderate in difficulty. It takes about 1-2 hours to hike to the waterfall and back. Carry drinking water with you.
Sturdy walking shoes are recommended. Bicycles and pets are prohibited on the trail.
Water recreation is not recommended in the park. Do not climb on rocks around waterfalls or along riverbanks. These rocks are slippery due to mist and algae. Closely supervise children at all times. Please read this important water safety information.
Did You Know?

More than 240 species of birds have been found in the park. Sixty species are year-round residents. Nearly 120 species breed in the park, including 52 species from the neo-tropics. Many other species use the park as an important stopover and foraging area during their semiannual migration. More...