Little River and Jakes Creek Trailhead Improvements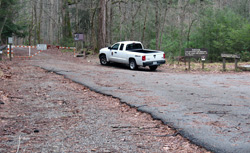 The Little River, Cucumber Gap, and Jakes Creek trails form a popular 5-mile loop hike near the Elkmont Campground. However prior to this project, parking in the area was extremely limited. Traffic congestion and resource damage were common as hikers tried to find any available space to pull off the narrow road to park. This project allowed for the design and construction of paved parking areas at the Little River trailhead, the Jakes Creek trailhead, and at the Appalachian Clubhouse.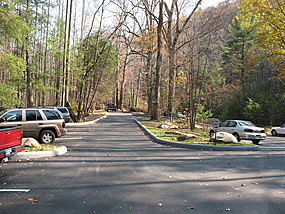 The access road from the campground entrance to the Little River Trail parking area was resurfaced as well as the road beginning at the Little River trailhead and leading to the parking area at the Jakes Creek trailhead. The one way exit loop road through Daisytown was also resurfaced.

This project is being paid for with funds from the American Recovery and Reinvestment Act.
Did You Know?

Money to buy the land that became Great Smoky Mountains National Park was raised by individuals, private groups, and even school children who pledged their pennies. In addition, the Laura Spellman Rockefeller Memorial Fund donated $5 million to create the park.