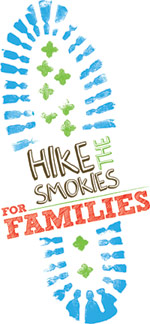 Hike the Smokies - For Families
Looking for a fun activity to do with your family? Why not go on a day hike in the Smokies? There are several short nature trails and family friendly trails in the park that are perfect for exploring with children or for those who need an easy hike. The challenge is to keep track and record the mileage from each trail excursion, even if it is the same trail day after day and the park will award you with mileage stickers and pins. The definition of family is broad. It could be a parent with children, a grandparent with grandchildren, two or more siblings, or any other combination of people who are members of a family.
Family booklets to record mileage are available for $1.00 at the park's four visitor centers. (Sugarlands, Oconaluftee, Clingmans Dome, Cade Cove) When the family has hiked 10 miles, 25 miles, 40 miles, and 50 miles, they can bring their mileage records to one of the park's visitor centers to receive a mileage sticker or pin and be recorded in the "Hike the Smokies-For Families" record book.