Trail Advisory

Several trails in the park are temporarily closed. Please check the "Backcountry Facilities" section of the Temporary Road and Facilities Closures page for further details. More »
Schedule Of Events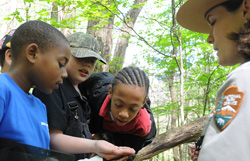 Explore the park with a ranger!
Use the calendar below to find information about the park's ranger-guided programs, special events, volunteer opportunities, and more!
In addition to the programs listed below, daily milling demonstrations are offered spring through fall at the park's historic Mingus Mill and Cable Mill.
.
Other ways to explore the park
The park has several partner organizations that offer a wide variety of programs, including guided hikes, summer camps, family adventures, naturalist workshops, and programs on synchronous fireflies, butterflies, wildflowers, salamanders, elk, bears, tracking, the Cherokee, and so much more! See what adventures await you!
How to use the Search for Events feature
To search for events by dates, click on the small calendar icons to choose your start and end dates, then click on "Show Results" for a listing of programs. Or type in a keyword and click on "Show Results" to view programs by topic.
Search for Events
Event Results
Showing 250 results

 RSS Feed


Did You Know?

There are at least 30 different species of salamanders in Great Smoky Mountains National Park. This gives the Smokies the distinction of having the most diverse salamander population anywhere in the world and has earned the park the nickname "Salamander Capital of the World." More...