Spring Road Status

During spring, park roads may close due to ice, especially at high elevation where wet roads can freeze as temperatures drop at night. For road status information call (865) 436-1200 ext. 631 or follow updates at http://twitter.com/SmokiesRoadsNPS. More »
Schedule Of Events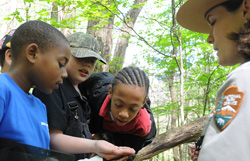 Explore the park with a ranger!
Use the calendar below to find information about the park's ranger-guided programs, special events, volunteer opportunities, and more!
In addition to the programs listed below, daily milling demonstrations are offered spring through fall at the park's historic Mingus Mill and Cable Mill.
How to use the Search for Events feature
To search for events by dates, click on the small calendar icons to choose your start and end dates, then click on "Show Results" for a listing of programs. Or type in a keyword and click on "Show Results" to view programs by topic.
Search for Events
Events Upcoming for April
---
More Programs To Help You Explore the Park!

Several of the park's partner organizations also offer a wide variety of programs. Please visit their websites for program schedules and fees.
Great Smoky Mountains Institute at Tremont
offers programs for all ages: summer camps, family camps, naturalist workshops, hiking adventures, and more. (865) 448-6709
Smoky Mountain Field School
offers workshops, day hikes, family adventures and more. Programs on synchronous fireflies, butterflies, wildflowers, mushrooms, old-growth forests, salamanders, stream life, elk, bears, tracking, early settlers, the Cherokee, and so much more! (865) 974-0150.
Great Smoky Mountains Association
offers hikes and activities that enhance the knowledge and appreciation of the national park. The programs cover a variety of topics from cultural activities, night walks, and guided hikes. Join the
Association
today!

Friends of the Great Smoky Mountains National Park gives you a chance to make friends, have fun, and support the park.



Did You Know?

Between 8-10 million people visit Great Smoky Mountains National Park each year, making it the most visited national park in the country.