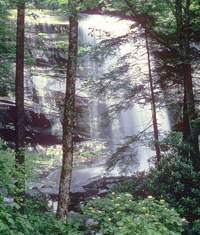 Hike along sparkling Le Conte Creek up to 80' high Rainbow Falls. As you hike along this trail you will see rocks ranging from the size of marbles to great boulders. In the spring and summer months, as you climb up towards the falls you will hike by blooms of crimson bee-balm and big yellow coneflowers.
Details about taking this hike:
Trail: Rainbow Falls Trail
Driving to the Trailhead: Take Historic Nature Trail Drive (traffic light #8 in Gatlinburg) into the park. At mile 3.4, just after the road becomes one-way, turn right into the Rainbow Falls Parking Area.
Hiking Distance: 2.7 miles one way to Rainbow Falls
Trail Conditions: Elevation change of 1,700 feet; trail contains switchbacks and is rocky in sections.
Notes: Rainbow Falls Trail continues past Rainbow Falls for a total of 6.7 miles up to the summit of Mt. Le Conte.