Winter Road Status

During winter, roads in the park may close due to snow and ice, especially at night when water from melting refreezes on roads. For road status information please call (865) 436-1200 ext. 631 or follow road updates at http://twitter.com/SmokiesRoadsNPS. More »
Elkmont Campground Water

Due to water line construction in the Elkmont Campground, drinking water will not be available in campground sinks. Containers of drinking water will be provided to campers upon check-in. We expect full water service to be restored by March 19.
Hike to Charlies Bunion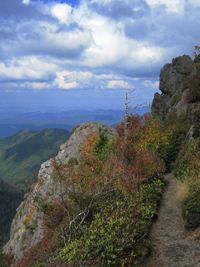 Enjoy breathtaking mountain views along the world-famous Appalachian Trail on this hike to a pictureque stone outcrop known as Charlies Bunion.
Details about taking this hike:
Trail: Appalachain Trail
Driving to the Trailhead: Drive on Newfound Gap Road to Newfound Gap parking lot which is 13.2 miles from Sugarlands Visitor Center or 16 miles from Oconaluftee Visitor Center. The trailhead is to the left of the overlook, at the end of the parking lot near the restrooms.
Hiking Distance: 4.0 miles one way to Charlies Bunion
Trail Conditions:Elevation change of 1,600 feet; this is a firm-packed trail that traverses some exposed cliffs.
Notes: The Appalachian Trail heads out in two directions from Newfound Gap - one way towards Clingmans Dome and one way towards Charlies Bunion. The trail aslo continues beyond Charlies Bunion and goes all the way to Mt. Katahdin in Maine.
Did You Know?

Between 8-10 million people visit Great Smoky Mountains National Park each year, making it the most visited national park in the country.