Park Continues to Clear Storm-Damaged Areas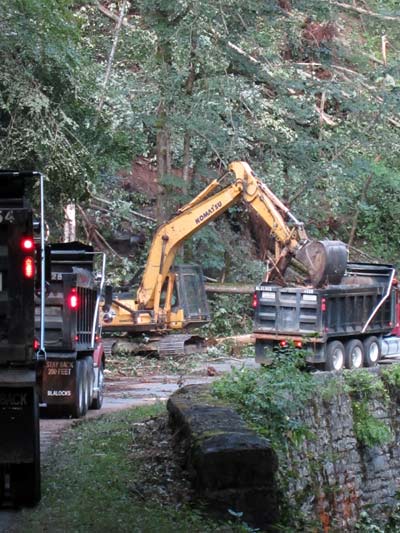 News Release Date:
July 7, 2012
Contact:
Public Affairs Office, (865) 436-1203
Park officials announced late this afternoon that Cades Cave, the Cades Cove Loop, Laurel Creek Road into Cades Cove and the Little River Road from Elkmont to the Metcalf Bottoms Picnic Area will reopen at 6:00 this evening. The Cades Cove Campground will reopen this evening, as well.
Two days after a violent thunderstorm ripped through the west end of Great Smoky Mountains National Park, killing two and injuring several others, crews are still assessing damage and clearing other roads. In its wake, the storm left a line of destruction stretching from Metcalf Bottoms, across Cades Cove, to Abrams Creek.
With the aid of heavy equipment, NPS personnel have been working to clear the tangled mass of hundreds of downed trees, covering several roads in the west end of the park. According to park spokesperson, Melissa Cobern, "Crews are making excellent progress, but it has been a challenge to get the work done." Cobern is referring not only to the amount of work to be done, but also the complexity. "Clearing one tree might bring down several others at the same time," she says.
Today, park staff also began a damage assessment of backcountry trails in the area hit by the storm. Initial indications are that several trails received significant damage, including the Chestnut Top Trail, of which a two-mile section has essentially been lost. The magnitude of the storm damage will most likely result in the closure of all or portions of several backcountry trails in the area.
        
Other roads in the storm damaged remain closed, including the Little River Road between Metcalf Bottoms and the Townsend Wye, the Rich Mountain Road, Parson's Branch Road and the Abrams Creek access road. The Abrams Creek Campground also remains closed. Assessment and clearing efforts will continue through the weekend.