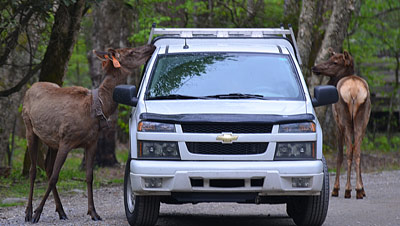 Warning! Elk are large animals--larger than black bears--and can be dangerous. Female elk with calves have charged people in defense of their offspring. Males (bulls) may perceive people as challengers to their domain and charge. The best way to avoid these hazards is to keep your distance. Please watch a short video about safely viewing elk.
Never touch or move elk calves. Though they may appear to be orphaned, chances are their mother is nearby. Cows frequently leave their newborn calves while they go off to feed. A calf's natural defense is to lie down and remain still. The same is true for white-tailed deer fawns.

The use of spotlights, elk bugles, and other wildlife calls are illegal in the national park. It is also illegal to remove elk antlers or other elk parts from the park. Never feed elk or other wildlife or bait them in for closer observation. Feeding park wildlife is strictly forbidden by law and almost always leads to the animal's demise. It also increases danger to other park visitors.

Every year park animals must be destroyed because of mistakes humans make. Learn how to protect park wildlife.
---
Elk Progress Reports - updates of the park's herd
July 2012
July 2011
August 2010
June 2009
December 2008
April 2008
January 2008
October 2007
August 2007
March 2007


---
Viewing Elk
The best times to view elk are usually early morning and late evening. Elk may also be active on cloudy summer days and before or after storms. Enjoy elk at a distance, using binoculars or a spotting scope for close-up views. Approaching wildlife too closely causes them to expend crucial energy unnecessarily and can result in real harm. If you approach an animal so closely that it stops feeding, changes direction of travel, or otherwise alters its behavior, you are too close!

Most of the elk are located in the Cataloochee area in the southeastern section of the park. The easiest way to reach Cataloochee is from Interstate highway I-40. Exit I-40 at North Carolina exit #20. After 0.2 mile, turn right onto Cove Creek Road and follow signs 11 miles into Cataloochee valley. Allow at least 45 minutes to reach the valley once you exit I-40.