Elk Progress Report, July 2012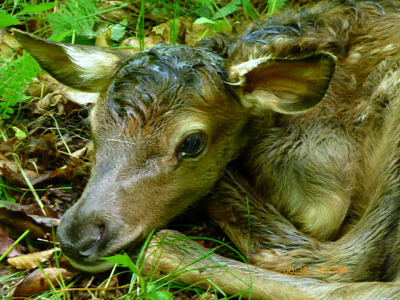 After several years of high reproduction and survival, the park's elk herd has had a below average year. Known adult elk mortality has averaged about 4 animals per year since the beginning of the project with slight increases as the herd continued to grow. As of July there have already been 8 documented adult elk mortalities in and around the park. The mortalities have consisted of 5 males and 3 females of the following causes:
• 3 vehicle collisions resulting in euthanasia because of injuries
• 1 from brainworm, a parasitic worm found the Southeast
• 1 euthanasia due to severe infection from a weakened immune system
• 3 illegally killed just outside of Park boundaries
The park's elk herd is still small and its future growth is variable depending on recruitment and survival rates across time. This year's survival data will be added to the data from the previous 10 years and the population models will be reanalyzed. The current elk population in western North Carolina is believed to be approximately 140 animals, counting those elk both inside and outside of national park boundaries.
In February of 2011, a large bull elk was illegally killed near Harmon Den, outside of park boundaries. The U.S. Fish and Wildlife Service investigated the case in cooperation with park staff. Three individuals have recently been charged with illegal possession of this elk's antlers but there have been no poaching charges to date. Elk are classified as a species of special concern in North Carolina, so killing elk or acquiring any part of an elk is illegal in the state.
The case of three elk that were illegally shot and killed this year on private property is still under investigation and is being handled by the North Carolina Wildlife Resources Commission in cooperation with park staff. The poaching occurred on May 17 in the Mount Sterling area near Waterville, and nothing was removed from the animals. These elk consisted of one young male and two adult females, one of which was pregnant. Recently, the NC Wildlife Federation has offered a $5,000 reward for information that leads to the arrest of those responsible.
Elk calving season is almost over and to date there has been 14 known calves born within the park, 13 of which are still alive. While survival is high for the calves born this year, the number of calves born is lower than previous years due to several females moving into old age and multiple younger animals not producing calves. Of the surviving calves that were handled, 5 are female, 3 are male, and the sex of the other 6 has yet to be determined. This does not account for calves that may have been born to elk that reside on public and private lands outside of the park.