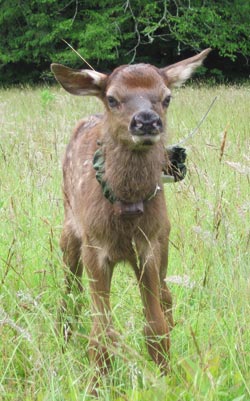 NPS Photo
Feature Topic: NC Elk, A Decade Later
In early 2001 the first elk set foot into Great Smoky Mountains National Park since the turn of the nineteenth century. This was the beginning of an experiment to see if an elk herd could sustain itself in the area after about a 200-year absence. Ten years later the Great Smoky Mountains National Park and surrounding land is home to approximately 140 elk, and the answer to that original question seems to be, yes, the elk can once again call this part of the Appalachians home.

It's been a long journey for the elk to return to the Smokies, and the national park, and its partners, have learned a lot about the North Carolina elk herd since their initial releases in 2001 and 2002. The first 8 years of the project was an experimental phase in which many aspects of their release into the park were studied including home ranges, birth and survival rates, physiological measurements, possible impacts to park resources, and projections for future herd sustainability were calculated, including others.

In the last ten years we've learned that, up to this point, the majority of elk have stayed close to where they were released and those that were born here tend to stay close to where they were born. There have been several animals that have left the immediate area and traveled through the region, but most NC elk have a fairly small home range. They are reproducing well and tend to have large, healthy calves that grow into adults with good body conditions and large antlers, all of which can be seen as an indication that they have high-quality habitat to feed and live in.

The elk that were originally released into the park had never dealt with black bears as predators and as a result many of the calves born here were killed by black bears in the first few years. Over time, however, the elk seem to have learned to deal with bears and to hide and defend their newborns against them as survival rates for calves has increased over the years.

We've also learned that after ten years there are still a lot of people who are excited about having elk in the Great Smoky Mountains. After the elk were released into Cataloochee, visitation there doubled and has remained almost double ever since. Throughout the summer, and especially in the fall, throngs of visitors flock to Cataloochee Valley and Oconaluftee to picnic and enjoy the Park, and keep their cameras ready for when the elk come out of the woods and into the fields where they are most commonly seen.

One final thing we've learned about the Smoky Mountain elk herd is that we still have a lot to learn. The elk project is no longer framed as an experiment, but is transitioning into what is being considered a reintroduction. This doesn't mean that the research is over though. The park is in the process of finalizing a new environmental assessment and management plan, which includes strategies for monitoring possible future impacts to the elk as well as park resources across the long term. As the dynamics of the Smoky Mountain elk herd change, the ongoing research and management will adapt and change with it to give Park researchers information about how the elk herd is fairing in its return home.
 
Smoky Mountain Elk Herd News
Since last update there have been a few changes within the elk herd. There have been seven elk mortalities since the last update was released. Four of those were in the Oconaluftee/Cherokee area and three were in Cataloochee. Near Oconaluftee a 1.5 year old bull was struck by a vehicle last October on Rte 441 and another in May along Big Cove Rd. Both bulls were euthanized as a result of their injuries. Last fall bull #106 died in a densely forested patch of land along Acquoni Rd. This animal was weak from a previous infection when it became entangled in grape vines and other vegetation. It was unable to free itself and likely died from exhaustion/asphyxiation. Ten-year old cow #39, known locally for being the elk that lived near the Casino, died of unknown causes in May. In the Cataloochee area cow #49 died of unknown causes, though at 12 years old her age likely played a role, and cow #60 died of stress-related injuries in November.