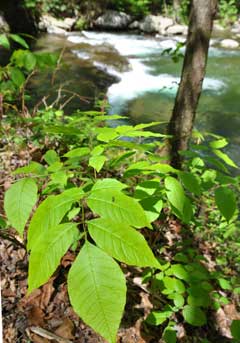 NPS photo.
Emerald Ash Borer found in TN
The dreaded Emerald Ash Borer, or EAB, has arrived in Tennessee just an hour's drive away from the park. Discovered to be in the Midwest in 2002, the EAB is a voracious beetle that has spread rapidly from state to state in infested firewood, trees from nurseries, and cut timber, devastating ash trees along the way. So far hundreds of thousands—maybe even millions—of trees have died as the beetle digs tunnels called galleries in the inner layer of the tree's bark. Without this layer the tree cannot transport water and nutrients and usually dies within three years.

Ash trees make up a small percentage of trees in the park, but we want to keep them safe from this invasive borer for several reasons: first, ash (we have green, white, and probably pumpkin in the park) are native species and their seeds are an important part of the food chain; second, ash grow in wetter areas after a disturbance, providing vital shade for other plants; and third, because in a national park we could not cut down the infested ash, as many cities, have, we would serve as a resting spot for the borer before it moved on to devastate other ash trees farther south.

This is the farthest south the Emerald Ash Borer has been found. So far it seems to be isolated to a single area in Knox county, but the park is watching carefully to make sure no infested firewood comes into the park. Recently the park began checking zip codes of campers who bring firewood into the campgrounds, and confiscating wood from any state where a federal quarantine against moving firewood exists. This includes areas of Michigan, Ohio, Illinois, and other Midwestern states, and will now include Knox county in Tennessee as well. If you're camping in the park, remember to leave your firewood at home and buy it here instead. You'll not only save money by not hauling heavy wood, you'll protect the park's ash trees, too.
Hosts help intercept invasive Emerald Ash Borer
Campground hosts and rangers have a new challenge: to intercept all firewood that may be infested with the invasive and highly destructive Emerald Ash Borer (see Emerald Ash Borer found in Tennessee in this section for more details) before that borer can escape into the park. Campers coming from one of 14 states and two Canadian provinces are asked if they have firewood with them; if they do, they are notified that they are from an area with a federal quarantine against moving firewood of any kind, and are asked to burn their wood immediately.

After the recent discovery of the Emerald Ash Borer in Tennessee—a dismaying find, which means the borer is just an hour away from the park—campers coming from Knox and Loudon counties will also be asked to burn their firewood, because it could be potentially infested.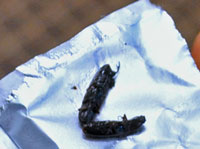 NPS photo.
Volunteers finish the first Adopt-a-Trap season
Volunteers from Tennessee, North Carolina, and even Georgia became the first Adopt-a-Trap crew in the Smokies this summer to help the park monitor for two invasive and highly destructive pests: the Emerald Ash Borer and the Gypsy Moth. Neither of these insects lives in the park yet, but it's very important to keep an eye on as many places around the park as possible because these pests are spreading closer to the Smokies each year. The Emerald Ash Borer feeds on ash trees, killing over 90 percent of them in its path, and the Gypsy Moth eats almost any tree although its favorite is oak.

Because of the increased threat as these invasive pests move closer, the park wanted to put more traps in more locations; with a limited crew and other high priorities such as treating hemlock trees infested with another invasive insect, the Hemlock Woolly Adelgid, however, there weren't enough people to go around!

Enter the public volunteers: in this first season of involving Citizen Scientist volunteers, the park was able to install 13 Emerald Ash Borer traps (giant purple sticky triangles) and 66 Gypsy Moth traps (tiny green triangle traps). Overall 34 people served as volunteers, including many local business owners and individuals, several families, a group of Upward Bound students working with the University of Tennessee, and an elementary school science teacher and her classes.
Spruce fir moss spider
The spruce-fir moss spider is a tiny tarantula that lives in some of the most beautiful—and most extreme—parts of the Smoky Mountains. Endemic to the Southern Appalachians, this spider is found from the Smoky Mountains as far north as Virginia, but nowhere else in the world. And individual populations are genetically distinct—a population of spiders on Mt Buckley, just west of Clingmans Dome—became separated from another population on Mt LeConte more than 17,000 years ago, and haven't been able to exchange spider genes since.

Forest insect and disease specialist Glenn Taylor, along with the vegetation crew, trekked to old-growth spruce-fir forests and other places where spider expert Fred Coyle had found them before. The spiders especially like boulders where dicranodontium, a particular kind of moss, grows. Their goal—the crew's goal, not the spiders'—was to determine if the endangered species was declining, because they often exist in the balds and popular rocky areas that visitors like to explore.

Based on the spider survey, however, there was no sign of decline and the habitat seemed to be stable. Researchers found 30 spiders during a two-year study, which sounds like a very low number but actually represents a pretty good population, scientists, think, because the spiders are elusive creatures.

You can watch a video of Glenn Taylor describing his work, and read an article about the search (both of these take you to an external newspaper webpage; to return to this page, click the back button on your browser).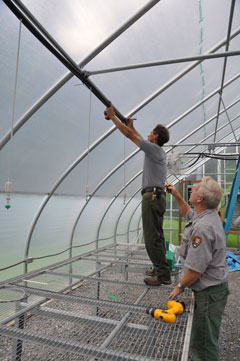 NPS photo.
Greenhouse going again (almost)
Since the windstorm that destroyed the greenhouse last winter, a new structure has risen from the ground. Maintenance workers have been busy putting up the frame, covering it with (very secure) plastic, and installing new fans. Plans are to move plants back in full time in summer, 2011. In the meantime, some plants are growing in the shadehouse next door. Last year's crop of native grass seedlings was mainly destroyed in the storm, so seeds harvested this summer will be the first to grow in the new greenhouse.
Beech plots
The vegetation crew is taking another inventory of beech plots the park has been monitoring every two years. The plots are in beech gaps, high elevation patches of beech forest amongst the spruce-fir. The goal is to see what tree species are growing up in the overstory, and to monitor for beech bark disease. This is a result of beech bark beetle infestation and then infection by Nectria fungus. The fungus can girdle a beech, destroying a strip of bark all the way around the tree and blocking food and water transport. If beech don't die from the disease, they are left with a very lumpy appearance so scientists know they have been infected.
Exotics work: Cable Cove and Hazel Creek
Two people this year are certified boat operators, which means they can pilot the small boats that carry the crew across Fontana Lake to remote invasive plant treatment sites. Crews this summer tackled exotic, invasive plants at Cable Cove and Hazel Creek, mapping the plants (and their destruction) as they treated them. Plants include mimosa, privet, and honeysuckle, all of which take over native plants.

In addition to park crews, contract crews were at work on Fontana Lake as well as Big Cove, Laurel Falls, and Buckshank near Abrams Creek.
Treating hemlocks
Another summer of hemlock treatments is winding down, although treatments will continue year round, with foliar spraying (spraying the tree crowns) mainly in winter. The park contracts with different companies to help with the treatments, and this year two were set up to aid park vegetation crews in covering the park. Driving around the park, you may notice huge brown swathes of trees: these are the victims of the Hemlock Woolly Adelgid (HWA); hopefully treatment will save some of the park's population and genetic material, so in the future our forests will sway with healthy hemlocks again.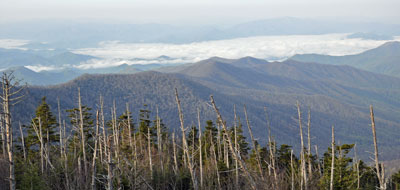 NPS photo.
Monitoring Fraser Fir
Vegetation staff returned to tagged Fraser fir trees in study areas to check them for the invasive—and destructive—Balsam Woolly Adelgid, an insect similar to the Hemlock Woolly Adelgid that has caused massive die-offs of Fraser firs at high elevations in the park. When you drive over Newfound Gap or trek up to Clingmans Dome, the dead trees around you are mostly Fraser firs that have succumbed to the Balsam Woolly Adelgid. Except now, researchers aren't finding many of these insects. Although the park did treat some trees, the adelgid has mainly declined because so many mature Fraser firs have died. The adelgid doesn't feed on firs until they've matured, so the insect is in a period of natural decline while the young trees grow slowly to maturity.
Coltsfoot: a new invader in the park
Vegetation crews spotted a new population of the invasive plant coltsfoot growing on the Lower Abrams River near Highway 441. Invasive species often take hold in or near construction sites because they thrive in disturbed soil, and sometimes because the soil or gravel contains plant seeds or roots. Coltsfoot can start to grow from a tiny fragment of a root, although it isn't likely to have come from construction inside the park. Here, as in many other protected areas, all gravel has to be certified seed- and plant-material free through the Clean Quarry Program. Vegetation managers carefully inspect road fill, parking lot gravel, and soil so no new non-native species enter the park.
New website helps managers keep an eye out for forest pests
From the Southeast Regional newsletter
"Instead of combing the news for tidbits of information about risks to your trees, you can find compiled information at a new NPS Forest Pest website. It includes international news and research, pest alerts for your area, profiles of different pest species, and brochures and other data you can print out. It also features an "Invasive Species of the Week," which the NPS Invasive Species Specialist Group highlights."
Invasive kudzu is a major source of surface level ozone pollution
A new report by University of Virginia scientists says that kudzu—the leafy vine that snakes its way across landscapes in the south—is actually a major air polluter, too. Kudzu releases two gases—isoprene and nitric acid—which combine with nitrogen naturally in the air and create harmful ozone. Ozone harms people's lungs and agricultural crops. The report says that kudzu negates ALL of the pollution reductions from cleaner-burning cars. Read more in the original article from the University of Virginia online.
Thousand Cankers Disease found in TN
Thousand Cankers Disease sounds as bad as it is—a tiny insect called the Walnut Twig Beetle (Pityophthorus juglandis) carries this disease (Geosmithia sp.), which causes open wound cankers all over a tree. Over time, the cankers limit the amount of water and nutrients the tree can take up, and lowers the tree's defenses. After a tree is infected, its crown (top of branches) starts turning yellow, then grows thinner with wilting leaves and within three years, most infected trees are dead. The beetle—and the disease it carries—have spread from Arizona where it is native to most western states, affecting primarily black walnut.

The discovery of Thousand Cankers Disease in Tennessee represents more than a thousand mile jump for the disease, and is very bad news for Smoky Mountain forests. The black walnut is a common and important tree in the Southern Appalachians, and both it and the much rarer butternut—also in the Juglans family to which walnut belongs—are likely at serious risk of a massive die-off.

Why do walnuts and butternuts matter? Walnut trees are one of the first trees to grow up after a disturbance—so reliably that they can tell the past development story of an area: if you see a row of walnuts, you're likely standing at the edge of a former field or cleared area. As colonizers, they "start" the forest for many other native species. Also, the nuts that walnuts (and butternuts) that trees produce nourish squirrels and other rodents, who stockpile them for the long mountain winters. Other species are walnut and butternut connoisseurs, too: the Walnut Caterpillar (Datana integerrima) and the Hickory Horned Devil (also known as the Regal or Royal Walnut Moth) (Citheronia regalis) feed on these trees.
Return to the Resource Roundup: Summer 2010 main page.