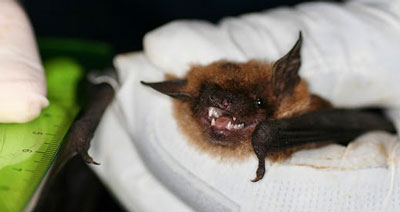 Photo copyright Ann Froschauer.
NPS White-Nose Syndrome Webinars Successful
On June 9, 2010 the NPS hosted two webinars for staff entitled "White-Nose Syndrome (WNS) Overview for Park Managers" and "Management of White-Nose Syndrome for Field Personnel."

The effort proved successful because of the massive turnout and interest shown. The NPS, U.S. Fish and Wildlife Service, U.S. Geological Survey, U.S. Forest Service, and Bat Conservation International all presented up-to-date information on white-nose syndrome. People from 40 states, Washington D.C., and three Canadian provinces attended the webinars. Agencies included the NPS, USFS, DOI, BLM, USGS, USFWS, Navy; Parks Canada; non-governmental organizations; and AK, CA, CO, MN, MO, MT, NV, OR, and TN state agencies.

Following the webinars, the USFWS wants to model future WNS workshops. White-nose syndrome is an emerging disease devastating cave-hibernating bats. It is estimated that over a million bats have died from the disease since it was first discovered in New York State in 2006. Having rapidly spread across 14 states, biologists now fear bats throughout North America are at imminent risk. To obtain a CD copy of the recorded webinars contact Sheila Colwell with the National Park Service. You can also find out more about the webinars online.
New bat exhibit at Sugarlands Visitor Center!
In the works this summer and fall: a new exhibit all about bats in Great Smoky Mountains National Park. The exhibit will welcome visitors to explore the fascinating nighttime world of bats, watch a podcast about bats, see real bats up close, view researchers in the park working on bats, and learn all about White-Nose Syndrome, which is killing millions of bats across the country and has been found in the park. Look for it when you visit Sugarlands Visitor Center next time you're in the park!
Bat research and tracking
Joy O'Keefe once again came to the Smokies to study bats and to find out where they have their maternity colonies in the park. Joy and her research team from Clemson University spent weeks here in the park setting up mist nets at night to capture bats, band them, take wing tissue samples, and release them. They also searched during the day for characteristic shaggy trees—specifically, pine trees with a bare crown (top branches) and peeling bark along the trunk. The endangered Indiana bat, which calls the park home, appreciates these standing dead trees for their protective cover. Females have maternity colonies under these flaps of bark.

Now that White-Nose Syndrome has been found in the park's caves, all of the species that roost there are at risk. It is vital that we know where bats live, how they behave, and assess the health of some over time by banding them, so we have a baseline before this disease potentially devastates our bat population.

Wildlife biologist Bill Stiver also began bat monitoring along two main roads in the park— Newfound Gap and Little River—with a sensor called Anabat. Anabat detects the echolocation calls of bats, which can help managers know what, where, when, and how bats use the habitat around the park. He hopes to use this over time to locate populations for netting and banding purposes and to track how numbers of bats change.
Return to the Resource Roundup: Summer 2010 main page.