Cultural Resources: Summer 2010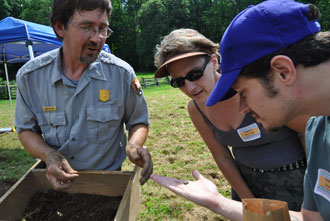 NPS photo.
The science of history: Teacher workshops
For two weeks this summer, teachers in North Carolina and Tennessee had a chance to learn about archeology in the park, meet local historians and archivists, and try their hand at excavation. In the first week, teachers from North Carolina met at Oconaluftee, now the area of the park visitor center and Mountain Farm Museum, and once the site of a prosperous Cherokee village. Led by Parks As Classrooms Coordinator Melissa Crisp, teachers joined park archeologist, technicians, and interns in carefully scraping away layers of soil to reveal pottery sherds (pieces) and stone flakes left from making tools. They also had the chance to hear from a Cherokee artist and the Tribal Historic Preservation Officer.

In the second week, teachers from Tennessee schools met at the Twin Creeks Science Center, spoke with the park's archivist, and excavated a historical site—that is, from the last century—at Elkmont.

If you're a teacher and you're interested in online archeology information and lesson plans, visit the Appalachian Artifact Exploration site developed by NPS education ranger Susan Sachs.

Archeology field school
Cherokee students had a chance to excavate an ancestral house this summer as part of an archeology field school run by NPS archeologists, technicians, and interns. The excavation offered students from the Eastern Band of Cherokee Indians a comprehensive look at the careers and interests related to archeology—from geology to zoology to plant ecology—as well as gave them the chance to carefully uncover the remnants of a very old house. While none of the structure itself was still standing, students unearthed the post holes and outline of a hearth, revealing where those who were likely their ancestors had once stood. You can read more and see a photo in this National Parks Traveler article.
Return to the Resource Roundup: Summer 2010 main page.