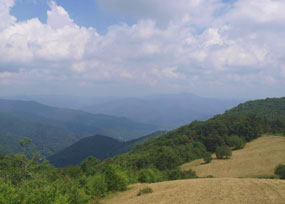 NPS webcam photo.
Wacky weather through the summer
While nothing about this year's weather has been "normal," the swings between below normal and above normal temperatures and precipitation have almost evened out. A very wet, very snowy winter led to a dry, cold spring, and a very, very hot early summer, and a warm, wetter late summer. Although lacking through June and early July, the rain came in late July and August, bringing us back to near normal levels of precipitation at high elevations such as Mt LeConte (5 percent below normal, as of late July), and less under-average at low elevations such as Elkmont (16 percent below average).

What seems remarkable this summer are temperatures that have stubbornly stayed in the high 80s to high 90s since June. July was the 10th hottest month in 116 years of keeping track (at an average day and night temperature of 80 degrees), and June was the 4th warmest since 1951. It also set the record for the highest average temperature (daily high and low combined) at 78.8 degrees, and the most cooling degree days. What is a cooling degree day? This is a measure of how much energy it takes to cool our homes, offices, schools, and other inside places in the summer. During the winter we have heating degree days. We start with a base temperature of 65 degrees, because if it's that temperature outside, we probably do not need to heat or cool the inside of a building. As the temperature changes, we figure out how many degrees we need to heat or cool to return it to that base temperature: subtract 65 from the day's average temperature. Say it's 90 degrees during the day and 70 at night. The overall average is 80. Subtracting 65 degrees gives us 15 cooling degrees for that day. Over a month, we add each day's number of degrees to get an overall "heating degree days" total, which we can use to compare to heating and cooling demand in other years and to figure out a building's energy efficiency. In June 2010 we had 240 heating degree days, instead of the average, 132.

We could expect increased temperatures and higher energy demand— both in cooling homes, offices, schools, and cars and in driving more to avoid exerting oneself outside—to lead to poorer air quality in the Tennessee Valley and Great Smoky Mountains. But this hasn't been the case so far in the Smokies—we had no advisories this year during the day, when people are most active. We did measure high levels of ozone that exceeded healthy levels during the night, when air from lower, hotter valleys rose into the mountains. The nearby city of Knoxville and the Smokies had 23 forecasted Air Quality Action Days—when ozone levels could be high and people were cautioned about exercising outside—although not all of the forecasts came true.

Wonder what our air looks like? You can see Great Smoky Mountains National Park air quality from our webcams at Look Rock in Tennessee and Purchase Knob in North Carolina. You can also check out the views from webcams in other national parks.

You can also learn about air quality in an interactive educational feature on Views of the National Parks.

Are you interested in what you can do to help reduce local pollution? If you live in east Tennessee, click here for information on Smart Trips, which offers commuter reward programs and helpful hints for residents of Knox, Blount, Jefferson, Sevier, Anderson, Loudon, and portions of Cocke and Roane counties.

You can also read about other parks' efforts to "go green," such as at Sandy Hook, a southern unit of Gateway National Recreation Area in New York and New Jersey.
How much is too much? Air to water pollution
Collaborative work with the National Park Service, U.S. Forest Service, State of Tennessee, State of North Carolina, and the Environmental Protection Agency continues on total maximum daily loads, or TMDLs, that regional sources of pollution can deposit in the form of nitrogen and sulfur and not harm water resources. In June Tennessee put out a draft TMDL report for public comment, and received overall positive feedback. Now they are in the editing process, after which new regulations may be in place to protect both air and water quality in the park and the Southern Appalachian region as a whole.
Return to Resource Roundup: Summer 2010.