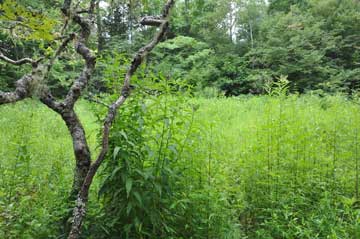 NPS photo.
Successful searches for wetlands
In a previous Dispatch, park biologists were just hiring seasonal employees and interns who would map the park's wetlands. The summer season is almost through, and the wetlands team—including a seasonal employee, two Student Conservation Association interns, and one Great Smoky Mountains Association intern—has had great success finding and mapping 12 previously undelineated wetlands throughout the park. So far they have completed two watersheds in the Grenbrier area and started an additional two, one in Greenbrier and one in Cataloochee. Each day the team returns from the field muddy and with questions about what new species of grasses they found. Afternoons and rainy days are spent identifying the plants according to minute details: hairs on the undersides, size of seed pods, and more. While most of the interns are done with their summer work season this week, one is staying on into the fall and the seasonal employee remains for at least another month.

Ever wonder how to recognize a wetland? Here are a few signs: you see standing water and maybe even springs and seeps that feed it, the soil is hydric (meaning it doesn't contain oxygen and it looks grey, mottled, and has deposits of iron, among other characteristics), and you're surrounded by wetland species including jewelweed and alder. Other signs: you see ditching in dry land or surrounding a wet patch, which shows you that farmers dug the area and tried to drain the wetland for planting or animal pasture, and you spot quite a few copperhead snakes, which, although not aquatic, love the warm, grassy wetland habitat. In the Smokies most, if not all, natural wetlands served as farm fields or pastures at some point because the land here was flat compared to mountain slopes surrounding them, so the next step may be restoration of native wetland plant species.
Firefly frenzy
Another season of synchronous fireflies—and thousands of visitors who came to see them—has passed. The synchronous fireflies (Photinus carolinus) are rare because the flying males light simultaneously with the fireflies around them in the air, creating a pulsing, wave-like light show through the dark forest. Found only here and in Asia, species of synchronous fireflies do not eat as adults so have a very short lifespan. Their only goal: send a signal to a female lying in wait on the ground, mate, and thereby ensure another season of synchronous fireflies next summer. You can read more in this New York Times article (link takes you to external page; click back arrow on browser to return).

You can also read local coverage in this Knox News Sentinel article (also takes you to external page; click on back arrow on browser to return).
Rare plants
Botanists and biologists are continuing to map rare species and enter their locations in a database so they can better inform rangers, trail crews, and maintenance staff about how to protect these plants in their day to day activities. The database can help them see if trail reroutes, construction projects, training, or suspicious activities are happening in sites with known rare plant populations.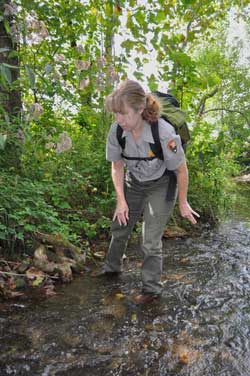 NPS photo.
Of particular concern are rare plants at high elevations. Spreading avens (Geum radiatum), which grows on cliff sides on LeConte, is endangered in Tennessee and North Carolina. For those who haven't hiked up this mountain, it is a steep-sided, blustery place in fall, winter, and spring, and a beautiful cooler place to be in the summer. Trails to it are slick, steep, and narrow—perfect habitat, it turns out, for an endangered liverwort (a non-vascular plant, like moss). Scientists are returning to monitor the Geum over time to learn if the population is stable, increasing, or declining.
Abrams Creek Algae Update
Becky Nichols, the park's entomologist, spotted a type of algae that she didn't recognize while sampling insects in Abrams Creek earlier this year. She sent it to an algalogist, who identified it as a species of Cladophora. This hair-fine algae likes to grow in water rich in phosphorous, which could indicate water quality problems in the park. The source of the phosphorous could be natural, but it could have come from something humans introduced along the stream's path. Becky plans to return to the creek to monitor whether the algae sticks around, spreads, or comes and goes. Its growth patterns—or lack thereof—may lead her to the source, and reveal over time if the water community has any other problems.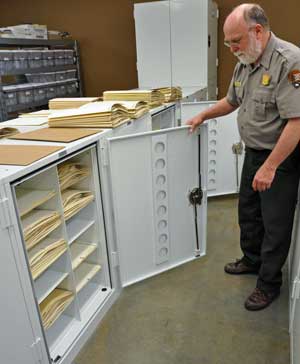 NPS photo.
Hurray for the herbarium!
After several seasons of getting settled in the new science center, we finally have all of the preserved plants in the climate-controlled collections room with the rest of the biological specimens. This herbarium is the result of decades of plant collecting, years of planning, months of moving, and weeks of sorting into alphabetical folders. Due to the efforts of museum curator Adriean Mayor, with help from VIP Janie Bitner and Discover Life in America interns Rachel, Alex, and Josh, as well as the muscle power of many staff at the Twin Creeks Science Center, the collection of Smoky Mountain plants is on its way to being highly organized and, most importantly, preserved for generations to come.
Invertebrate Extravaganza
U.S. Geological Survey (USGS) Aquatic Biologist Chuck Parker has completed a three year survey of aquatic macroinvertebrates at 17 regional National Park Service units! The study area spans protected areas in the Appalachian Highlands and Cumberland Piedmont Inventory and Monitoring Networks.

Chuck's goal: create a baseline inventory of five groups of aquatic insects—Ephemeroptera, Odonata, Trichoptera, Plecoptera, and Megaloptera (groups that include mayflies, caddisflies, and stoneflies, among others)—in each protected area, many of which have never been inventoried before. The NPS units range from very large to very small, and rural to urban. They also represent lands that have been preserved for spectacular natural resources, such as high mountain peaks, and those that have been set aside for cultural or historic reasons, such as being key battlefields. Chuck collected along the entire length of the Blue Ridge Parkway south to north, and west to Shiloh and east to Guilford Courthouse National Military Parks.

At the end of the three years, Chuck Parker and collaborating scientists collected insects at over 1,000 sites. At each they used a combination of light traps (a lighted sheet set up during the night to lure insects) on land for the flying adults and nets in the streams for the swimming (or sticking) immature insects. They collected and identified a total of 300,000 individual specimens, which represent over 700 different species. About a dozen of these are new species to science!

Besides creating an impressive species list that will be invaluable as we try to track the effects of changes to habitat, climate, and living populations, Chuck's work helps us understand the importance of setting aside and protecting lands from development and disturbance. Chuck explains that every one of these parks—whether they were originally preserved for cultural or natural resources—functions as an important nature reserve for insects that are likely to be at risk outside the protected area. All parks tend to be put in special places, Chuck says, either for beauty or habitat or even to mark a battlefield. If you think about it, battlefields are often prime wildlife habitat, too: they were chosen originally for their high vantage points, proximity to water, and vegetation cover, all natural features that make them interesting places to work on living resources as well as historic. Some of these species that find refuge are rare or very sensitive to disturbance or pollution, both risks that come with roads, housing development, farming, and other things people do to live on the landscape. One such sensitive insect is Agapetus, a grazing caddisfly that scrapes algae off of rocks near the surface for food. When soil is disturbed upstream—by people digging, or by a landslide, for example—fine particles of silt settle in the algae and the caddisfly can't graze anymore. While Chuck found the caddisfly in streams inside park boundaries, once he left the protected area the populations disappeared. This inventory helps make parks aware of the very important role they play in protecting homes for these native species, and in keeping all of the links in the food chain functioning and strong. As Chuck Parker compiles and drafts his results, he says he hopes each of these parks is as intrigued to find out about themselves and the life they protect as he has been.
All Taxa Biodiversity Inventory Update
While scientists add to the tally of species found in the Smokies, staff and volunteers at Discover Life in America are planning the next All Taxa Biodiversity Index (ATBI) Conference. This year the conference will not be in December—instead, it will be NEXT year, in April 2011.
Plotting Fraser Fir
Two interns and a graduate student from the University of Tennessee are following up on fir tree plots that scientists established in 1990. Here Inventory and Monitoring staff collaborate with Vegetation Management staff. Every ten years researchers go back to see how the Fraser firs are fairing with the continued stresses of Balsam Woolly Adelgid (BWA), acid deposition (rain, snow, fog, and dry particles) at high elevations, and climate change, which here may be bringing more severe wind storms and drastic swings in weather. Watch Vegetation Manager Kris Johnson describing the impact that BWA has had on the park's forests in this podcast (link will take you to Knox News Sentinel page, a non-NPS site. To return, click the back button on your browser).
Return to the Resource Roundup: Summer 2010 main page.