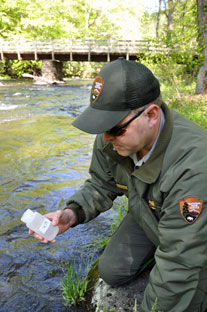 NPS photo.
What does acidic deposition do to stream life?
Dr. John Schwartz and Dr. Mei Cai of the University of Tennessee proposed a new study: to take a closer look at what acid deposition—which comes in the form of rain, snow, fog, and dry particles—does to aquatic macroinvertebrates and fish over time. To do this, they are planning on first understanding the history of acid deposition in the past, based on measurements over the past decades. Then they will be able to determine if the baseflow (the average level of water in a stream) or the stormflow (the rush of water that comes after a rain) in a stream have higher acid levels than they know fish and insects can survive over time (chronic levels) or in single (acute) episodes.

To read and watch about more water quality research by Lee Mauney, one of Dr. Schwartz's graduate students, click here (link takes you to Knox News Sentinel page; click the back arrow on your browser to return to this page).
Removing rainbows
Rainbow trout, that is. Fisheries crews removed 291 additional rainbow trout through electrofishing. Most were the "young of year," which means they were this year's offspring—a somewhat disappointing finding because crews worked hard last year to remove all rainbow trout from miles of streams in the Smokies for brook trout restoration. This invasive fish included some at Lynn Camp Prong that had markings indicating they were hatchery stock. This means people carried them back up to the restored stream and released them illegally.
Fish genetics
Two students working at the park this summer are also in school studying fisheries management: Jason Miller of Tennessee Tech is studying the genetics of the park's endangered fish: the Smoky and Yellow madtoms and the Citico darter. Casey Weathers, a graduate student at Penn State, is collecting genetic tissue from the endemic brook trout.
Return to the Resource Roundup: Summer 2010 main page.