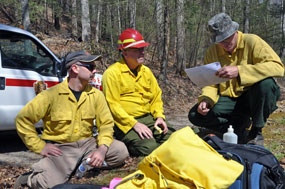 NPS photo.
The Wildland Fire Module manages fire in national parks throughout the Southeast region. Although it is based in Great Smoky Mountains National Park, it also serves Gulf Islands National Seashore, Timucuan Ecological and Historic Preserve, Horseshoe Bend National Military Park, Little River Canyon National Preserve, Russell Cave National Monument, Kings Mountain National Military Park, and other park units—such as Mammoth Cave or the Everglades—when needed.
Pre-fire, members of the module travel to each park, talk with biologists and cultural resource managers, and select the site for burning. They assess whether the burn area has natural fire breaks (such as gaps in fuel, changes in topography, streams, or roads that would stop the fire from spreading beyond a controlled area), map the topography of the landscape, visit the site, and figure out if a fire in this location presents any special hazards. These could include buildings in or near the burn area, smoke potentially drifting across public roads, or neighbors with special health concerns who shouldn't be exposed to smoke and particles. All of this information goes into very detailed burn plans well in advance of any fire on the ground.
On the morning of the proposed burn, Wildland Fire Module members monitor the wind, humidity, fuel moisture, and temperature as everyone prepares the area for the fire. If everything checks out, they ignite the fire using drip torches and sometimes helicopters, and monitor the progress of the fire very, very carefully.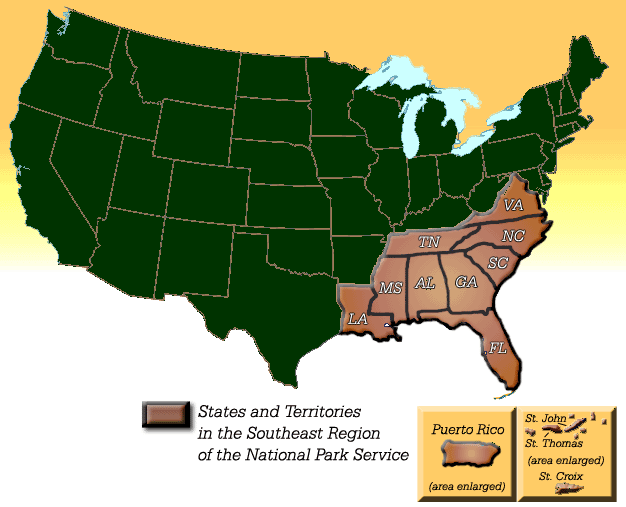 NPS graphic.
One thing that may surprise you is how much fire played a part in the Southeastern landscape before we suppressed it. Therefore, the fire management program is one of the most active in the United States. The Southeast Region includes a diverse range of landscapes, from the high mountains of the Smokies to the flat, lightning-flashed plains of Florida. This region
has the oldest prescribed fire program in the NPS, dating back to 1958 when Everglades National Park conducted the first documented prescribed burn in NPS history.
has the largest prescribed fire program (by acres) in the NPS, burning more acres than any other region. It burns the most acreage at Big Cypress and Everglades.
has the single largest park-level prescribed burn program (by acres) in the entire NPS. Big Cypress National Preserve treats more acres with prescribed fire than any other REGION in the NPS.
has more fire starts than any other region, but the starts are usually extinguished while they are very small.
includes Florida, which alone experiences more lightning strikes than any other part of the U.S., with 8 to 16 flashes per square kilometer per year.
If you haven't already, read about what roles these other teams play in putting fire on the ground: Engine crew and Fire Effects.