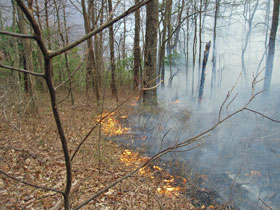 NPS photo.
Fire & GPS training
Earlier this summer, Geographic Information Systems technician Ben Zank led a class to teach GPS (Global positioning system) skills to firefighters and incident command system teams from all over the Southeast region. GPS helps fire managers plan controlled fires, understand how unplanned fires are spreading, and monitor the effects of burning on plant and animal communities in the years following.
Canadian Top burn in Little Cataloochee
After two thwarted attempts to burn the narrow, dry hills surrounding the Little Cataloochee Baptist Church, the Canadian Top fire went off successfully on a day with good fire weather. To read more about the planning process for this fire, click here to go to the NPS Profile: Controlled burns.
Fire interpretation workshop coming soon!
On November 2, 3, and 4, 2010, the Midwest and Southeast Regions will present the first Inter-Regional Fire Interpretation Workshop at Natchez Trace Parkway headquarters in Tupelo, Mississippi. Building on the regional fire interpretation workshops organized by Rudy Evenson and held in the Southeast Region at Mammoth Cave in 2008 and Kings Mountain in 2009, this event offers a chance for fire management and interpretation staff from two regions to network, share success stories, and build capacity for educating visitors about how the NPS uses fire to manage our resources.

This year's workshop will focus on telling the story of fire ecology. The keynote speaker will be fire ecologist Dr. Cecil Frost of the University of North Carolina.

This event is a workshop for fire management, interpretation, public affairs, or environmental education staff, so those involved with bringing fire to the landscape or interpreting it can share with the group and benefit from others' expertise.
Return to the Resource Roundup: Summer 2010 main page.