Vegetation: January-March, 2010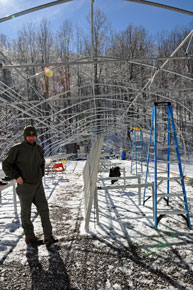 NPS photo.
Gusts topple greenhouse
On Christmas Eve, a storm packing high winds whipped through the Twin Creeks area outside of Gatlinburg, TN. In addition to bringing down trees, the wind caught the heavy plastic sheeting that made up the greenhouse's walls and ripped them from the frame. The metal frame itself was also damaged, and hundreds of just-planted native seedlings flew from their neat rows into the forest. Through January and February vegetation crews are picking up the pieces and designing a new greenhouse facility to replace the destroyed one. The new building will be ready for next season's planting and potential storms; the crew is designing it to withstand wind gusts up to 90 mph, which is higher than has been recorded in this location before.
"Adopt-a-trap" program to help us spot invasive insects—volunteers needed!
Have you ever wished there were more direct ways to help the park and its forests? Here's your chance. Starting this April, the park is recruiting volunteers for a new Adopt-a-Trap program. Volunteers will take part in one of two projects: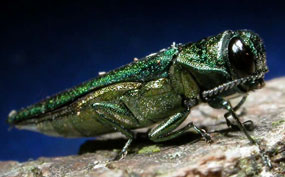 USDA APHIS photo.
(1) Adopt-an-EAB-Trap: from April-September, visit one trap in the park at least once a month (more often is welcome, too!) and check for possible Emerald Ash Borers (EAB). The EAB is a small, green beetle that kills ash trees. Your trap would be in one of 13 locations in Tennessee or North Carolina. We'd work with you to find a spot that was handy, and provide training in how to identify the EAB and what to do if you find one at your trap.

(2) Adopt-a-Gypsy-Moth-Trap: from May-September, drive once a month on an established route to check multiple gypsy moth traps hung in trees. All of the traps are accessible from the road, and you'll get to drive on some of the park's most scenic routes. Gypsy moths were found once in the park, and federal and state regulations require us to monitor a vast area for any more. Volunteer help is vital to the success of this program. Click here to email for more information.
Ash tree mapping—Cherokee HS students start out the season
On February 23, three Cherokee High School classes braved the chilly weather and mapped ash, butternut, and sycamore trees in plots at the Smokemont Campground. The ash locations will be entered into a GIS map and database, and will help vegetation managers model likely locations for more ash. This is important so they can hang traps to detect any invasive Emerald Ash Borers and know how much of the forest ash comprise should the population start to decline. Butternut trees are also threatened, not by a bug but by the Butternut Canker, so managers are interested in knowing where these relatively rare trees are found. Finally, we're curious about what makes sycamore grow where it does: while sycamore generally thrive below about 2500 feet in elevation, sometimes they stop appearing below that. What makes these white trees that tower over streams suddenly stop? We aren't sure, so managers and volunteers are collecting points that can be added to a map to look for patterns.
Maryville College students help eradicate invasive plants
On January 20, students from Environmental Ethics classes at Maryville College came to the park to help eradicate invasive species and clean up our scenic vistas. Eighty students and their professors walked, drove, and scrambled along sections of the Foothills Parkway near Walland; vegetation managers let about 20 students have at it in a plot thick with invasive plants, and in a matter of hours the students had pulled 1,567 honeysuckle vines and 3,457 privet plants. The other group split up to tackle the trash people toss over the overlooks on the way to Look Rock; they ended up filling 30 bags with garbage, in addition to hauling up old tires, motorcycle mounts, carpet and other debris.
Exotic spring break
The vegetation crew has been busy mapping exotic plant sites, so they know where to target their eradication efforts in the coming seasons. They've also been pulling garlic mustard—between heavy snows—and have eliminated over 300 plants. In the second week of March they'll get some field help from the Breakaway Spring Break, a group of students who are spending their days pulling invasive plants in the mountains rather than sunning on a tropical beach. The spring break group will begin their work at the spot where the Maryville College group (listed above) stopped.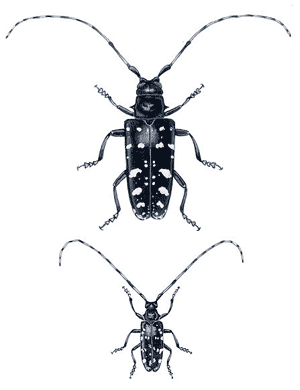 USFS photo.
Long-horns on the loose
While not here yet, invasive Longhorned beetles (Anoplophora glabripennis) could be on their way. The Southeast Region of the NPS warned resource managers that this beetle moves in infested firewood—something visitors can bring into parks without even knowing it—and is deadly to many trees. The beetle feeds on maples, horsechestnuts, poplar, willows, elms, mulberries, and black locusts. We don't have chemical or biological (predator) controls to prevent the beetle's spread or damage to forests.
Revegetation of Foothills Parkway
In addition to getting rid of what's not supposed to be on the Foothills Parkway—invasive plants—vegetation managers are planning what to plant to revegetate the area. Managers are collaborating with contractors through a design-build contract to restore the roadsides after the construction on the section heading east from Walland ends. The contracted landscapers will get native plants from local nurseries, targeting woody plants such as redbuds, sumac, and smaller trees. In the following years, managers can take cuttings of the native plants to further revegetate the area. Replanting an area with native plants after construction, flood, or other disturbance cuts down on the number of invasive plants that can colonize the area, and reduces the parks' workload in the future. Plus, native plants supply food and shelter to native animals.
Planting the seed for native plants
Vegetation manager Kristine Johnson spoke to an enthusiastic group of about 60 people in February about exotic plants. The talk, "Invasives and Native Alternatives" taught a group of Master Gardeners and the public at the Blount County Library about wise ways to landscape and garden in this area. Wherever you are, using native plants is a great alternative to planting exotic plants. In addition to keeping invasive plants and their seeds from spreading to other areas, it's also a lot easier to grow plants that are suited to your particular geographic area. And birds, butterflies, and other creatures will visit your garden to take advantage of the plants they're used to finding in nature.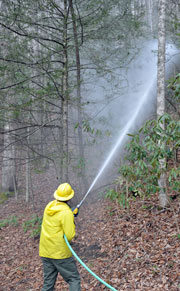 NPS photo.
An oily endeavor
If you drove into the park this winter, you may have seen one of the vegetation spray trucks. During the cold season, vegetation managers spray hemlocks with a refined oil blend (2% oil; 98% water) to protect them from the invasive Hemlock Woolly Adelgid (HWA). The oil stays on the trees temporarily without harming the forest or wildlife, but smothers the tiny harmful insects. In combination with soil drenching—pouring the chemical imidicloprid around the base of trees so its roots will pull it up into the needles—spraying trees is an effective treatment to help stop the spread of HWA.
Hemlock treatment success
A 2009 report summarized the health of hemlock trees in four park areas: (1) Conservation Areas, where managers intensively treat all trees, (2) untreated Control stands of hemlocks adjacent to a Conservation Area, (3) a Front country treated area, and (4) a Biocontrol release area, where managers introduce two species of beetles that eat the Hemlock Woolly Adelgid. At the end of the season, managers evaluate the health of the trees in these areas by assessing the tree's crown (its live spread of needles in the tree canopy). Field scientists estimate Percent Live Crown Ratio, Percent Density (how thick the needle cover is), Percent Transparency (how much sky they can see through the tree top), Percent Dieback (how much branches have died since last assessment), and Vigor class, which is a 1-6 rating system given to each tree. A healthy tree gets a 1, and declining trees receive higher numbers up to 5 (standing dead) and 6 (fallen dead).

Front country systemic chemical treatments show clear positive results among trees treated early in the infestation. These trees have had several years of recovery time after treatment and were not in severe decline at time of treatment. High mortality has occurred among control (no treatment) and biocontrol treated areas. Biocontrol treated trees are moderately to heavily infested at time of treatment. Trees in such condition may be physiologically declining and not show symptoms until one or two growing seasons later.
Return to Resource Roundup: January-March, 2010.