Cultural Resources: January-March, 2010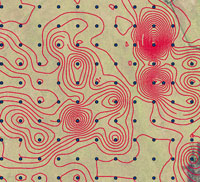 NPS graphic.
Elkmont in ink
Last spring, photographers from HABS/HAER (Historic American Buildings Survey/Historic American Engineering Record) photographed buildings at Elkmont that are going to be removed. The photos serve as a permanent record of the buildings prior to their removal. Archeologists are developing a written Archeological Sites Management Plan for the protection and documentation of archeological sites and prominent landscape features in Elkmont. The plan will be a guide for future development, building removals, additions, and facilities such as parking lots or bathrooms. The plan will detail what protection measures and archeological site recovery measures should be taken prior to any new developments or building removals.
Historic headquarters
The headquarters building just outside Gatlinburg, TN, and near the Sugarlands Visitor Center, represents a distinct historic architectural style. Plans are being made to bring in photographers from HABS/HAER (Historic American Buildings Survey/Historic American Engineering Record) to photograph the unique architectural features of the building. These photographs would become part of the HABS/HAER collection permanently housed photographic collection in the Library of Congress. The headquarters building is slated for renovations in the coming years.
Summer field school: archeology
The 2010 archeology field school, in the planning now, will host Cherokee high school students interested in archeology at the park in late July. Park archeologists and University of Tennessee archeologists will teach students about archeological excavation and field methods. The week will feature archeology speakers and let students work next to prominent archeologists including Dr. Bennie Keel, retired NPS archeologist and prominent Cherokee scholar, Dr. Brett Riggs from the University of North Carolina, and Dr. Boyce Driscoll and Dr. Gerald Schroedl from the University of Tennessee. Plans are to excavate a Mississippian period structure identified during a recent water and sewer line project. Radiocarbon dating of the structure in 2008 provided a date of 960 ±70 years A.D.
Workshops for teachers
In June, two workshops will showcase archeology in the Smokies. Local teachers from North Carolina and Tennessee will learn how to identify archeological sites, how archeologists test potential sites, how to map sites, and how they can bring archeology into their classrooms. Parks as Classrooms coordinator Melissa Crisp, a former archeology tech at the park, helped to organize and will lead many of the workshops. Teachers will spend three days excavating at a archeological sites in Elkmont and at the Mountain Farm Museum.
New hires for summer
Each summer, the archeology field crew expands. Already this year the park is advertising and selecting its summer archeology technicians, who will help map, excavate, and catalogue objects recovered from archeological excavations in the park (and hopefully avoid poison ivy while doing so). Interns have been selected from universities across the region, including the University of Tennessee, the University of the South in Sewanee near Chattanooga, and Transylvania University in Louisville, Kentucky.
Return to Resource Roundup: January-March, 2010.