Air Quality: January-March, 2010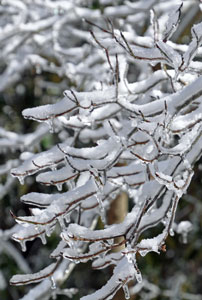 NPS photo.
Jarring January & Frigid February
Anyone in the United States can probably tell you about the harsh winter weather many parts of the country experienced this winter. In the Smokies, precipitation for January and February were above normal, and temperatures were far below normal. As a result, the highest mountains in the park have been gleaming, sun-sparkling white or shrouded in purple snow clouds for most of the past two months, and a recent snow added to the thick base already on many mountaintops. In addition, several high wind "waves" swept through the area in December and January, toppling hundreds of trees whose roots had nothing left to grip in the wet, loose soil. One park visitor was killed when a falling tree crushed their car on Newfound Gap Road in the park. Two rock slides closed the Spur between Gatlinburg and Pigeon Forge, and smaller rock slides were reported throughout the area. Park buildings and local communities saw frequent power outages due to trees falling on electric lines.

January: While the nearest large city, Knoxville, received 6.21 inches of precipitation in January, (1.64 inches above normal), the Smoky Mountains received up to 14 inches of snow in just a two day period. The region's wettest January of the 139 years of observations taken was back in 1882, when 16.98 inches of precipitation were recorded. In addition to being very snowy, the month was also very cold. The monthly-averaged temperature at Knoxville was 34.3 degrees, 3.3 degrees below normal. It tied with 1976 as the 23rd coldest January on record. The coldest January at Knoxville was back in 1940, when the average temperature was 26.7 degrees.

February brought a few startlingly warm days in the 60s, but overall was frigid and snowy. At the end of the month, the Visitor Center near Gatlinburg (1600 feet elevation) had an inch on the ground and Newfound Gap (5000 feet elevation) had 30 inches. Mount LeConte, at 6400 feet elevation, had already received 52 inches of snowfall, or 32 inches (160%) above average. Forty six inches of snow stayed on the ground, with more drifting down.

Overall, from December 2009 to the end of February 2010, Mt. LeConte received 112 inches of snow, 61 inches (120%) above average. Air quality specialist Jim Renfro said, after checking the records, that he hasn't seen a snowier February than the last month. LeConte has had annual snowfall totals above 112 inches (it received 138 inches in 1993, when a March "Blizzard of the Century" contributed to 72 inches of snowfall just for that month).

What does this mean for the near future? Jim Renfro says historically March has been the second-snowiest month in the Smoky Mountains. We could receive more snow, and we'll almost certainly receive rain. This can bring rapid snowmelt, flooding, and looser soils that let rocks and trees tumble.

Yet even as snow falls, day after day, in hefty chunks or streaming strands, managers are looking to the warmer seasons soon to come. Check out the other resource management programs to find out more.
Return to Resource Roundup: January-March, 2010.