Resource Roundup: January-March, 2010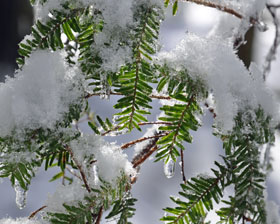 NPS photo.
Click on each Resource Management Program to learn about current projects.
Jarring January & frigid February - snow and record-setting weather in the Smokies

Elkmont in ink
Historic headquarters
Summer field school: archeology
Workshops for teachers
New hires for summer

Training and testing
Plotting fire effects
Helicopter training
Learning about fire
Burning at other parks

Training volunteers for water quality
NPS Water Resources Division Meeting
Spreading the words about water and fish
Ongoing project promises cleaner water
Megatransect stretches across the Smokies
Remotely sensing the missing link
NIMBioS in Knoxville

Initiating inventories
Checking in on spruce-fir
Understanding soils
Threats to high elevation health
Law Enforcement learns GIS
Viewshed analysis
Picturing the park
Botanical and bug bevy
Looking past the list
Algae in Abrams Creek

Gusts topple greenhouse
"Adopt-a-trap" program to help us spot invasive insects—volunteers needed!
Ash tree mapping—Cherokee HS students start out the season
Maryville College students help eradicate invasive plants
Exotic spring break
Long-horns on the loose
Revegetation of Foothills Parkway
Planting the seed for native plants
An oily endeavor
Hemlock treatment success
Tracking bat health: white-nose syndrome updates
White-nose working group
Fact sheet on lead poisoning in wild birds
Suspected elk poacher charged; awaits trial

DLIA Science Cafe
Gold rating for Twin Creeks Science Center
Southeast climate change workshop
Return to the Dispatches from the Field: Issue 7 main page.