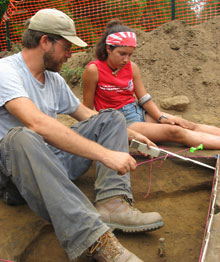 NPS photo.
Are you interested in discovering and protecting the complex history of our national parks? If you like spending your days outside sifting soil for artifacts, or inside reviewing plans for park restoration and preservation, a career in cultural resources may be for you. Here are some suggestions about how to start:
In high school: Take history, geography, and social science courses geared for college-bound students. Volunteer after-school or during the summer at libraries, museums, state parks that have a cultural focus, and national parks, if you can. You can also ask parks and museums if they have high school summer internships, as the Great Smoky Mountains National Park does.
If you like volunteering in these places and learning about culture, keep in mind that you need at least a high school diploma or GED for most seasonal technician jobs, and a bachelor's degree or higher to continue in the field.
In college and/or graduate school: As with many careers in the National Parks, a B.A. or B.S. in a related field (landscape architecture, museum studies, cultural geography, human ecology, history, archeology, and anthropology, to name a few) helps you find opportunities and know what you're doing. A master's degree and independent research in these fields are helpful if you want to be a subject expert. A PhD is not usually necessary for the hands-on research and field work that many of the cultural resource managers in the park service do, but extensive field experience and high quality work are.
Gaining other experience: Showing that you are interested and have hands-on experience dealing with archives, artifacts, historic buildings, or policy that protects these resources in the U.S. are vital. You can gain experience for a career through internships and seasonal jobs within the national park service and through many universities, museums, and, in the case of landscape ecology, other preserved lands, parks, or even cities. Also, check out the Federal Jobs website for current, competitive job openings: search for archeology technician positions or seasonal interpretive positions at historical parks when you're starting out. You may not begin by working directly in the field, but experience interpreting, filing, or in other ways helping to preserve cultural resources will help you move forward. These jobs will help you gain entry level jobs or a spot in a college program.
Good luck, and have fun!