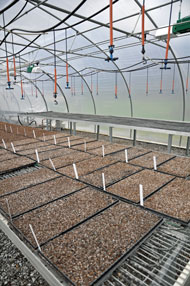 NPS photo.
Growing in the greenhouse
With the coming of cold temperatures and snow to the Smoky Mountains, Cherie Cordell, the greenhouse manager, heads into the balmy greenhouse to sow seeds of native grasses collected this fall in Cades Cove. Through the winter, she will tend the seedlings, which will be transplanted next spring into the fields. This ongoing effort is part of a long-term management plan for Cades Cove restoration: converting the non-native fescue fields into native grassland once again.
Data!
Just as in the other programs, data management is vital to responsible stewardship of the park's vegetation. Glenn Taylor and other vegetation managers have been busy compiling information about Forest Insect and Disease projects: acres sprayed, treated, and protected in hemlock forests; Emerald Ash Borer and gypsy moth traps retrieved; and others. Data from the 2009 season will inform plans in 2010. In 2009, nearly 18,000 hemlock trees were systemically treated and more than 400 acres of hemlock were foliar sprayed. No EAB or gypsy moths were found from 14 (EAB) and 40 (gypsy moth) traps deployed. Among other exotic plants controlled 22,432 garlic mustard plants were pulled, 40,574 mimosa trees were cut, and 97,678 privet hedge plants were treated.
Plantings up, invasives down
The numbers from this year's seed harvest are in. Crews have been busily harvesting seed from native meadow restoration areas in Cades Cove and the Foothills Parkway-West construction sites. This year, managers harvested a total of 665 pounds of native seed from 13 different species of grasses and forbs. The seed has already been shipped to Maryland for processing and storage.

Managers also worked with the fire cache and fire module to burn selected fields in Cades Cove. These prescribed burns mimic natural fires that lightning would spark in grasslands, but allow the park to control their range so they don't harm the historic buildings they are also responsible for protecting. Regular fires reduce the number of non-native, invasive plants that take root as well as regenerate growth in native grasses.
Hemlock spraying has started
Fall is the ideal time to spray hemlocks to protect them against the invasive Hemlock Woolly Adelgid, the invasive insect pest that is devastating our forests. With decreased visitation in the fall, vegetation crews can spray trees in campgrounds and picnic areas without also spraying campers and people picnicking. There are also fewer insects on hemlocks overall, so the spray—an ultrafine mist containing 2 percent oil mixed with water—targets just the Hemlock Woolly Adelgid while keeping most other native species safe.

Crews spent the last three weeks spraying hemlocks in developed areas such as Tremont, Smokemont and Cades Cove using their large spraying trucks. They finished the Cove and are now moving on to spray other hemlocks that the truck can access near roadways and parking lots.
Revegetating the Foothills Parkway
In addition to coordinating exotic plant removal crews around the park, vegetation manger Kris Johnson is overseeing the Foothills Parkway-West construction revegetation projects. It's important to plan for revegetation because without planning, non-native, invasive species move in easily. Some of the largest sites of established invasive plant species are already on the Foothills Parkway near Townsend, so managers want to ensure proactive planting of native species for the future.

Invasive species move in most easily when the soil has been disturbed, either by human actions such as construction or logging or by regular events such as lightning fires, landslides, or floods. When invasive species are not there to be introduced, none of these regular events is a problem for a habitat. It's only after people have introduced them to an area that we have to watch and manage restoration carefully to prevent invasive species from taking over.
Spreading the forest news
Forester Jesse Webster presented information about the current health of Smokies' hemlock forests and the park's efforts to control the invasive Hemlock Woolly Adelgid through chemical treatments and biocontrol beetles at the 13th annual All Taxa Biodiversity inventory (ATBI) Conference held December 9-12, 2009 in Gatlinburg, TN. The conference, organized by one of the Smokies' non-profit partner's, Discover Life in America, showcases activities to discover biodiversity in national parks across the country. Attendees include national and state park staff as well as local teachers. You can read about the conference and find out more about Discover Life in America.
Beneficial beetles on the loose
More biocontrol beetles released means more future protection for the park's hemlock trees. December marked the beginning of the Laricobius nigrinus season: "Lari," as vegetation managers call the beetle, will feed on the Hemlock Woolly Adelgid and hopefully continue to establish a population in the park. On December 15, 2009, crews released 300 "Laris" near the Trillium Gap trail, where they also are monitoring a chemically treated hemlock conservation area. University of TN, Knoxville, entomologists under the direction of professor Jerome Grant have surveyed biocontrol release areas in the park from as far back as 2002 and are recovering some of the same species that were released. This means the biocontrol beetles are reproducing in the small trees even in areas where the mature trees have declined or died.
Return to Resource Roundup main page.