Inventory & Monitoring: Winter, 2009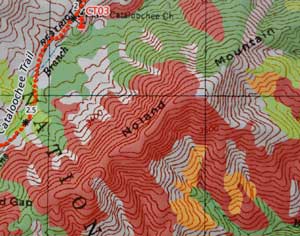 NPS photo & map.
Mapping new lands
Inventory and monitoring staff finished mapping the vegetation in the newly acquired lands near the western side of the park. Data from this inventory is not only listed in a typical database, but also represented on maps so managers can visualize where species occur on the landscape.

Data!
Janet Rock, the park botanist, is busy updating the park's plant list and preparing the rare plant species database. The park plant list contains all of the known species in the park, many of which are endemic—found only in this area—or rare. Even though people have explored the park for 75 years now, new plant species have been discovered through All Taxa Biodiversity Inventory efforts as well as exploration of the park's newly acquired lands.

The park's Geographic Information Systems specialist, Ben Zank, is working with the botanist to map known species as well as restoration sites for recovered plants that had been poached illegally.

Tom Remaley is entering data from a season of setting up 27 new long-term vegetation monitoring plots throughout the park. Tom and his crew carefully inventoried all of the plant species in each plot. They will return after a few years to monitor how the plant species changed—either the type of plants that grow there, their abundance, or their distribution.

Mapping rocks
That's not just what people who like mapping say, it's the project that a group of students from Louisiana State University will be doing as early as January. The project will involve hiking to the Bull Cave area to map rock outcrops and plant species that grow there.

Return to
Resource Roundup
main page.