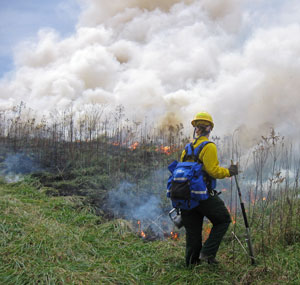 NPS photo by Heath Bailey.
Finishing fall fires
Fire managers at Great Smoky Mountains finished prescribed burns in Cades Cove for the winter. During prescribed burns in the park, staff across all divisions—resource management, law enforcement, maintenance, trails, and education—are eligible to help, as long as they have their "red card." This card means that a person has passed a rigorous fitness test and has knowledge about safely applying and working around fire in open areas. The last burns in Cades Cove completed about 400 acres of burning this year, which will be beneficial for native grass restoration and invasive plant control.

Return to
Resource Roundup
main page.