Cultural Resources: Winter, 2009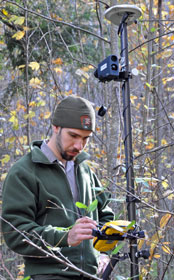 NPS photo.
Elkmont in maps

In addition to having photographers document the buildings at Elkmont (see the
Partner Profile
for more information), the park is also mapping many of the physical features in the area ahead of planned construction. Ben Zank, GIS specialist at the Smokies, spent many mornings (when the satellite signal is better) taking Geographic Positioning System (GPS) points of the houses, electric poles, utility boxes, and manhole covers around the settled areas of Elkmont. From these, he made maps to give to park managers and construction crews. Many of the houses in Elkmont will be restored in the coming years, but those that are not historic or that are too dangerous to enter will have to be removed. Having accurate maps of all of the features helps in the area's restoration process.
Return to Resource Roundup main page.