Air Quality: November-December, 2009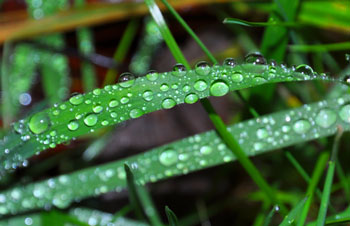 NPS photo.
Wet weather
Rain, more rain, and early snow have made 2009 one of the wetter years on record. The Great Smoky Mountains average annual precipitation at higher elevations is about 83 inches; this year (as of mid-December) we've received 99.6 inches, and by the New Year, we are sure to top 100. This is remarkable because until May, we were actually having a dry year, with precipitation amounts 6 inches below normal. Since then, wave after wave of rainy weather has inundated the mountains: Elkmont received 10 inches more precipitation than normal (18 percent above average), and Mt LeConte received 15 inches more than normal (19 percent above average). The wettest year on record at Mt. LeConte was in 2004 with greater than 102 inches for the year.

Windy weather
In addition to being wet, the mountains have also been windy—windier, in fact, than the previous decade, according to weather monitoring stations in Great Smoky Mountains. While there have not been more total wind events—that is, no more wind storms coming to the area than in the past—the wind gusts that we have experienced have been stronger and lasted longer than recorded before. The trend for higher wind gusts and longer duration has been increasing since 2003. Scientists at the park and with the National Weather Service are trying to understand why the frequency and duration of higher winds are occurring.

Scientists measure wind strength in miles per hour (mph), and duration by how many hours strong winds are blowing cumulatively. In 2009—particularly in December—we had several wind gusts in the 90 mile-per-hour range at the Cove Mountain monitoring tower, and on December 9th, the wind buffeted the mountains at 101 mph. This year we had 55 total hours of winds blowing at 40 miles per hour or more, the speed at which the National Weather Service starts to issue warnings, and at which trees are more likely to fall. High winds and heavy rains this fall and winter meant many streams overflowing their banks, trees down over roads (and onto cars and houses), and power out to the park and local residents.

Spreading the air quality news
Air quality specialist Jim Renfro presented information about the air quality monitoring program, wind trends, and air quality trends at the 13th annual All Taxa Biodiversity Inventory (ATBI) Conference held December 9-12, 2009 in Gatlinburg, TN. The conference, organized by one of the Smokies' non-profit partners, Discover Life in America, showcases activities to discover biodiversity in national parks across the country. Attendees include national and state park staff as well as local teachers. You can read about the conference and find out more about Discover Life in America.

Return to
Resource Roundup
main page.