Resource Roundup: Winter, 2009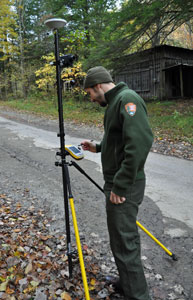 NPS photo.
Click on each Resource Management Program to learn about their current projects.
Wet weather
Windy weather
Spreading the air quality news

Fisheries

Data!
Mapping new lands
Mapping rocks

Growing in the greenhouse
Data!
Plantings up, invasives down
Hemlock spraying has started
Revegetating the Foothills Parkway
Spreading the forest news
Beneficial beetles on the loose

Elk shot, suspect charged
Return to Dispatches from the Field: Cultural Resources main page.