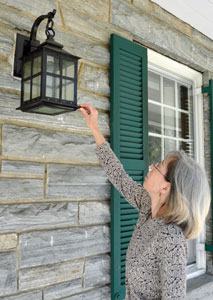 NPS photo.
Drive on any road or delve into the woods at any point in the park and you are likely to come across a historic structure. In some cases, you may actually be driving on or walking over the structures in question, because they include not only old houses, churches, and other buildings but also fence rows, bridges, tunnels, drinking fountains, and even some of our sturdy stone restrooms. Cultural Resources manager Dianne Flaugh oversees the protection of these buildings, as well as cultural landscapes (read more about this in the next section: Historic Landscapes).
Any structure built over 50 years ago is a candidate for preservation as a historic structure, although many do not qualify because they are not—as described on the main page—"significant" in terms of the style in which they were built, who build them, or why they were built in that place. Some of the best-known historic areas in the park are Elkmont and Cades Cove. Railroads used to bring wealthy families from Knoxville and Asheville to the mountain towns of Elkmont in Tennessee, and Smokemont in North Carolina. There families could forget the heat of the city by soaking in streams under the lattice of thick rhododendron branches. Many of the summer homes that these families built remain in Elkmont, and were occupied into the 1980s. Some are listed on the National Register as part of the Elkmont Historic District. When family leases ended, the park took over their management,which presented many challenges including long-term maintenance and upkeep. After consulting with the Tennessee State Historic Preservation Officer, cultural resource managers developed a long-term plan that preserves some homes while allowing for the removal of others. A core area of homes at Elkmont near the Appalachian Clubhouse will be restored and preserved, along with a two other homes that help to tell the story of Elkmont and the park.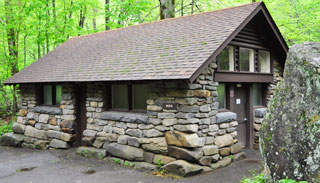 NPS photo.
In Cades Cove, dozens of families used to own farms, mills, and orchards. They built cabins, churches, bridges, and schools, several of which still stand today. Millions of visitors each year drive the Cades Cove loop and stop at these cultural sites to relax on cabin steps, watch a mill wheel grinding grits, and stroll through shady churchyards.

Even buildings that thousands of visitors still use today are historic: the comfort stations at the Chimney's Picnic Area are an example of rustic stonework done by Civilian Conservation Corps (CCC) members when they were here during the 1930s. The CCC also pieced together many of our arching bridges and tunnels. Their stone work is renowned as high quality and very long-lasting. In most national parks that had been founded by the 1930s, CCC handiwork endures.

You can read more about preserving the buildings at Elkmont in the NPS Partner Profile: Documenting Elkmont.
Or return to Meet the Managers: Cultural Resources.