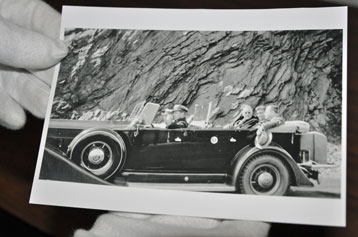 NPS photo.
Cades Cove, Cataloochee, Newfound Gap Road, Elkmont, and Twin Creeks
. What do these park locations have in common? They represent historic landscapes, or areas of land that we recognize as vital to understanding the past in this park. Take Newfound Gap. It has great natural resource value because it represents a high-elevation spruce-fir forest, and many of the plants and animals there are relics from the Ice Age, living things that we find in Canada, Maine, and here. It also has tremendous cultural value: in the 1830s Davenport mapped the state line by walking across it, and on September 2, 1934, then-President Franklin Delano Roosevelt drove up to it in a grand presidential parade and dedicated these lands as a new park. Roosevelt had, the year before, sent thousands of young men to our mountains' flanks to build many of our rock walls and arching bridges over our roaring rivers. Newfound Gap represents all of those events in human—and park history—and it is therefore a prized cultural landscape, used daily by eager visitors and park rangers alike.
Return to
Meet the Managers: Cultural Resources
.