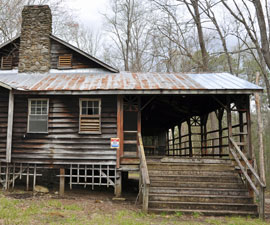 NPS photo.
There are several clusters of homes at Elkmont
: Millionaires' Row, Society Hill, and Daisy Town among them. The park is restoring and preserving 18 homes for future generations, primarily in Daisy Town, the area around the lodge, which will also be restored. Cabins that will be preserved only on film will join an impressive historic collection at the Library of Congress going back 75 years.
After graduating from Goucher College with a degree in Historic Preservation, James fine-tuned his craft working as a laboratory technician processing and printing images for Jack E. Boucher, HABS/HAER/HALS' longest-tenured professional photographer.