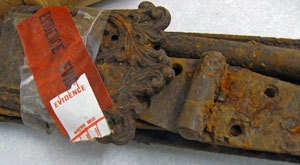 NPS photo.
Less visible than many of the historic sites are remnants of life before
—and sometimes overlapping with—the earliest European settlement in these mountains. Archeology is the study of past human behavior through the materials people leave behind and, potentially, through the remains of people themselves. Sometimes historic documents provide information about the past, but often these records are written by those in power or those able to read and write. Oftentimes, the only way to learn about people for whom no written record exists or in which the written record is sparse is through the field of archeology. Archeologists refer to the period of written records—generally after the 16th century—as historic, and the period of time prior to written records (and the 16th century) as prehistoric. That means archeologists look for clues as far back as thousands of years ago and as recently as the past century.
Erik Kreusch is the full-time archeologist in the Smokies, and Heath Bailey is the archeological technician. Work goes on year-round, although much of it happens with the help of a seasonal field crew in the spring, summer, and fall. The archeologists hike the park's trails to survey areas where park management or park users might disturb cultural resources. For example, when fire managers plan a prescribed burn in Cades Cove, archeologists survey the area to make sure the burn won't harm any prehistoric or historic resources. Heath Bailey is in charge of digging shovel tests in areas they have learned are likely places to find cultural artifacts.