And for those in school: Air & Sky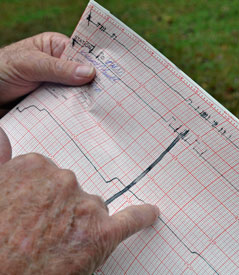 NPS photo.
Are you interested in climbing atop the highest towers in the Great Smoky Mountains and looking far off to the horizon to track air quality? If you like spending your days thinking about the science behind the air and skies, here are some ways you can do that in our National Parks:
In high school: Take chemistry, earth science, biology, geology, ecology, geography, and math courses geared for college-bound students, because these will prepare you for challenging college courses. Ask parks if they have high school summer internships, as the Great Smoky Mountains National Park does. You can also gain valuable experience as a summer or after-school volunteer. Some internships at the high school level allow you to gain experience in air quality monitoring. You need at least a high school diploma or GED for most seasonal jobs, and you should plan on getting a bachelor's degree to continue in the field.
In college and/or graduate school: As with many careers in the national parks, a B.A. or B.S. in a related field (chemistry, biology, geology, math, and/or ecology) helps you find opportunities and know what you're doing. A master's degree and independent research in chemistry, hydrology, math, and/or geography are helpful if you want to be a subject expert in the field. Many who work with the park service's Night Skies Program have forest ecology, geomorphology, and other science backgrounds. Glimpsing the status of air quality is a short-term endeavor, but understanding trends over time may take a whole career.
Gaining other experience: Showing that you are interested and can link abstract ideas of air pollution on-the-ground impacts that we measure is vital. You can gain experience for a career through internships and seasonal jobs. Also, check out the Federal Jobs website for current, competitive job openings: search for the biotech positions that have your level of education as a qualification. You may not start out working directly with air quality, since there are few jobs that do this exclusively, but many jobs such as a fisheries tech or vegetation tech will expose you to the impacts of poor air quality across the park. These jobs will help you gain entry level jobs or a spot in a college, Master's, or PhD program.
Good luck, and have fun!
Return to Dispatches from the Field: Issue 5.