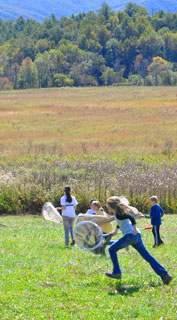 NPS photo.
Winging it
In September and October, the Great Smoky Mountains Institute at Tremont invited school kids and the public into the field to tag monarch butterflies. Tagging involves putting a small sticker near the base of a wing, so not too much weight is added to the monarch's body. Monarchs make a long migration down to winter grounds in Mexico, and fly over the Smokies on their 2,000 mile journey.

Prior to beginning this study, said tagger Wanda DeWaard, no one was sure how many monarchs flapped over the Smokies or if monarchs spotted here ever made it to their final stop. Now, butterflies tagged here have been found in Mexico, confirming that the monarchs that fly through here do indeed winter with the rest.
Return to Resource Roundup: Fall, 2009.