Inventory & Monitoring: Fall, 2009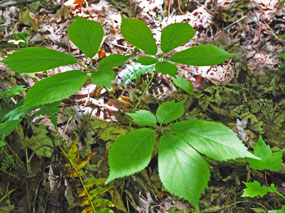 NPS photo.
Ginseng seized & restored
Every year, law enforcement rangers catch poachers digging ginseng in the park. This endangers ginseng populations, which are slow growing and restricted to certain areas of the park. This year, rangers seized 938 roots from poachers (and arrested the poachers, who usually face large fines and jail time, in addition to a criminal record and being banned from the park). Resource managers including botanist Janet Rock weigh and age the roots. Of the seized roots, 418 could be replanted. The rest were too damaged. Managers will return in spring to see if their replanting was successful.
Tapoco and Tallassee discoveries
Inventory and monitoring staff worked with the park's non-profit partner Discover Life in America to bring in outside science specialists to help inventory newly acquired lands on the park's far west side. Although the inventory and identification work is not complete, they have made several discoveries of new species in the park, including:

A hoptree species (Ptelea trifoliata) found for the first time in the park
A new serviceberry, the Round leaf (Amelanchier sanguina), which was first identified on Highway 129, and then confirmed in a large stand on the new lands
Unusual snail habitat on which 35 species of snails—two of which were new records for the park, and one of which is globally critically imperiled—were found by land snail specialists

Scientists also created vegetation maps of the new lands, extending the map that researchers at the University of Georgia constructed. In September, scientists began mapping the vegetation along the Foothills Parkway from Chilhowee Lake to Cosby.
Invertebrate inventories
There were several studies going on this fall to collect stream life samples to better understand water resources. Entomologists--including NPS entomologist Becky Nichols and USGS biologist Chuck Parker--scoured the streams that run through the new Tapoco and Tallassee lands to survey streams and collect samples of aquatic macroinvertebrates—water insects, crustaceans, and other creatures—for identification.

Nearby, Becky Nichols also made field collections of aquatic macronivertebrates at lower Abrams Creek as part of a study to determine if watershed disturbance is impacting the area.

Last but not least, Becky and Chuck completed the field work portion of their study detailed in Issue 2 of Dispatches from the Field, collecting the last samples of invertebrates from streams running through hemlock forests. Their goal is to assess the impact of hemlock death from the hemlock woolly adelgid on stream life.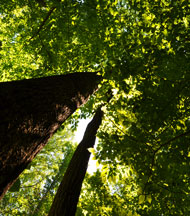 NPS photo.
Trees over the years
Each year, inventory and monitoring staff set up 20 to 25 new plots, or study areas, across the park to compare the same type of forest across a large area. They will return to those plots every 5 years in a constant rotation. This allows them to monitor change in xeric (dry habitat) oak forests, for example, or among hemlock forests threatened by the invasive hemlock woolly adelgid (HWA). Park forest ecologists helped a graduate researcher complete monitoring long-term monitoring plots in hemlock forest that he installed in 2003. His research concentrated on detecting impacts of the HWA on hemlock forests.
Forest plots
Forest ecologists installed long-term vegetation monitoring plots at Brushy Mountain, one of many ATBI plots across the park. The ATBI, or All Taxa Biodiversity Inventory, aims to discover and document every living species in the park. As part of this effort, staff are setting up plots—study areas—in different habitats throughout the park.

NPS scientists also helped the North Carolina Division of Forestry install forest inventory and analysis (or FIA) plots. These are part of a long-term inventory of the nation's forests. The study's goals are to assess forest types, tree species, and growth in terms of production of wood. While the U.S. Forest Service oversees the efforts, individual state foresters set up the plots in the field.
New fungi!
Scientists identifying specimens from a 2004 Mycoblitz (an event organized by Discover Life in America and Great Smoky Mountains National Park to discover and document new species of fungi in the park) finished their analysis and released their results:

Skeletocutis brunneomarginata Ryvarden was described as a new species, and was found in North Carolina (outside the park).
Perenniporia cremeopora Decock & Ryvarden was a new report for the USA (described from the Dominican Republic & known from Venezuela.
Junghuhnia undigera (Berk.) Ryvarden was also a new report for the USA (previously known from Cuba and Puerto Rico).
Wrightoporia cylindrospora Ryvarden was reported for the first time since it was described from collections in 1960 in Maryland.
Perenniporia ellipsospora is rather rare, known from few sites in Eastern North America. It was collected on dead fruits of Platanus (sycamore trees).

These efforts were part of an ongoing All Taxa Biodiversity Inventory that began in the park in the late 1990s. Results from the mycoblitz are published in the following paper: Ryvarden, L. 2009. Some new and interesting polypores from United States. Synopsis Fungorum 26: 24-26.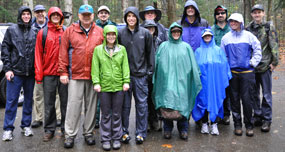 NPS photo.
Ash, sycamore, & butternut mapping
On four Saturdays in the summer and fall, citizen scientist volunteers have helped resource management locate and map target tree species. The first three events focused on mapping ash trees, which will be threatened by the non-native Emerald Ash Borer when it comes to the park. First introduced to the U.S. in the late 1990s, the borer kills almost 100% of ash trees, and is moved from place to place when people carry firewood from infested trees. The borer is not in the park yet, but campers bring firewood from quarantined areas, and it has come as close as Virginia and Kentucky. Mapped locations of ash will help foresters improve their predictive computer model showing where ash live, improving detection and response when the borer arrives.

The last mapping day expanded the search to sycamore and butternut trees. In the spring, more citizen science days will be offered. You can find out how to be involved by going to and watching for specific events in newspapers and other local sources.
Reorganizing Inventory & Monitoring
An extended—and extensive—workshopping process within the park has given the Inventory & Monitoring program new focus and goals. Just as each Inventory and Monitoring Network has a plan for what resources to monitor and how best to monitor them, so do select parks, including Shenandoah, Channel Islands, and the Smokies.

In the Smokies, air, fire, fisheries, inventory and monitoring, vegetation, and wildlife staff met regularly through the summer and fall to re-evaluate their monitoring program. Looking toward the future, they discussed which species, habitats, and systems would allow them to detect sudden changes in animal or plant populations and long-term trends in park health. They also identified the key stressors, or threats, to the park's protected resources. By October the workshops had yielded a first draft of monitoring priorities, which will soon be ready for independent peer review.
Return to Resource Roundup: Fall, 2009.