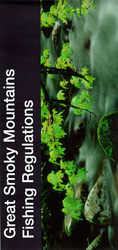 NPS file.
Fish on the move
Through late summer and early fall, fisheries managers returned brook trout to restored sections of stream in the Lynn Camp Prong near Tremont. Last fall and spring, they moved native brook trout out of Lynn Camp Prong to temporary holding streams, and treated the river with an antibiotic called antimycin to remove non-native brown and rainbow trout. You can read about their efforts in Issue 4 of Dispatches.

Managers had to re-treat two tributaries after finding surviving rainbow trout. Their efforts were ultimately successful, and hundreds of brook trout now swim happily—and will hopefully reproduce—in streams where they had almost disappeared.
What belongs where: non-native fish across the country
In September, fisheries biologists Matt Kulp and Steve Moore traveled to North Cascades National Park to help staff there remove brook trout. While the brook trout is a native fish here in the Smokies, it is a non-native fish in the Cascade range that people stocked for fishing. range for recreational fishing. Because it threatens native trout in the Cascades, managers wanted to coordinate with biologists here who were experienced in using antimycin to successfully treat large waterways.
Toxic fish in southeast streams?
A study conducted by the U.S. Geological Survey (USGS) surveyed fish from 291 streams across the country, and found that "a quarter of these fish were found to contain mercury at levels exceeding the criterion for the protection of people who consume average amounts of fish, established by the U.S. Environmental Protection Agency. More than two-thirds of the fish exceeded the U.S. EPA level of concern for fish-eating mammals."

Additionally, reports said, some of the highest levels of mercury in fish were found in the tea-colored or "blackwater" streams in North and South Carolina, Georgia, Florida and Louisiana — areas associated with relatively undeveloped forested watersheds containing abundant wetlands compared to the rest of the country. High levels of mercury in fish also were found in relatively undeveloped watersheds in the Northeast and the Upper Midwest. Elevated levels are noted in areas of the Western United States affected by mining.

While we don't have the "blackwater" habitat in the Great Smoky Mountains, we do receive high levels of the atmospheric pollution that deposits mercury far from its source—mostly burning coal at power plants—to remote protected areas.
Return to Resource Roundup: Fall, 2009.