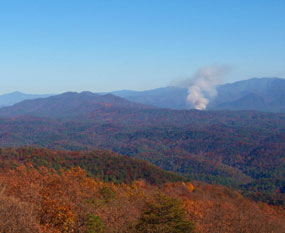 NPS Look Rock remote camera photo.
Cades Cove burning
On November 4, 2009, the Great Smoky Mountains Wildland Fire Module and the park's Fire Cache, assisted by the Firestorm crew, conducted a prescribed burn in Cades Cove. This grassland area contains many native grass species that depend on fire to clear woody growth and non-native, invasive species from their habitat.

The Fire Cache is based in the park and is responsible for assisting the Module with preparing the burn site and maintaining needed equipment, including chain saws, shovels, pulaskis, and the fire engine itself. To prepare the burn site, they mow and/or dig fire breaks, and coordinate traffic and emergency water supplies on site. Members of the Fire Module ignite the fire, and the Fire Effects crew monitors the burn site when it's all done.

When fire managers burn, they have to be very aware of changing weather conditions: wind, humidity, and temperature all play an important role. Forecasts for a second day of prescribed fires indicated that relative humidity would be too low (40-50%) to safely burn, but late in the day, updated spot weather forecasts gave a better outlook for more humidity. Burning continued November 5th and 6th near Maple Branch, south of Sparks Lane. The camera on the Look Rock air quality monitoring station offered us a view of the prescribed fire in the distance.
Communicating the value of prescribed fire
From October 28-29, education, interpretation, and fire programs from Southeastern parks gathered at Kings Mountain National Military Park in South Carolina for a fire interpretation workshop. The event included a classroom session with staff from Mammoth Cave, Natchez Trace, and the Everglades, as well as a field trip to completed burn areas with a fire management officer and staff from the Great Smoky Mountains Wildland Fire Module.

Fire is an important part of most ecosystems, and national parks use prescribed fire to keep their forests, grasslands, wetlands, and other habitats healthy. Communicating to the public about fire's role is also important; this workshop helped people develop new fire interpretation tools such as rack cards, waysides, or tours.

Members of the fire effects team from the Great Smoky Mountains were also there to collect data on what plant species have come back since a 2007 prescribed fire, how plant understory diversity, abundance, and distribution have changed, how much leaf litter and duff (organic leaf material) have decreased, and if tree canopy amounts change.
Return to Resource Roundup: Fall, 2009.